Sustainable Development Leadership Award
Instituted by TERI in 2005, the Sustainable Development Leadership Award felicitates global leaders for their contributions to the field of sustainable development. The Award is presented at the Delhi Sustainable Development Summit as TERI's tribute to eminent individuals engaged in encouraging global initiatives that can lead the world towards a sustainable future.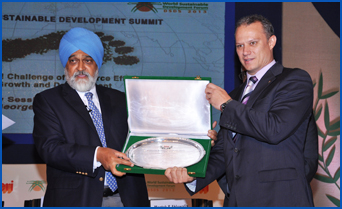 TERI is proud to honour
His Excellency Mr James Alix Michel
, President of the Republic of Seychelles, with the
Sustainable Development Leadership Award 2013
, in recognition of his outstanding contributions towards sustainable development in Seychelles and placing the issues of Small Island States on the global agenda. TERI commends President Michel for his visionary and strong leadership in the implementation of sustainable environmental, economic, and social programmes during challenging times, and acknowledges the exemplary standards that this sets for everyone else in the global community.
President Michel co-chairs the Global Island Partnership (GLISPA), which brings together world leaders to promote action on the conservation and sustainability of islands. Under his leadership, GLISPA has mobilized political support for the blue economy and marine protected areas within island regions of the world. Sustainable development that reduces the vulnerability of Small Island States to climate change, food, and energy crises remains at the forefront of President Michel's agenda. His exemplary leadership appeals to the conscience of world leaders for the future of humanity.

Past Sustainable Development Leadership Awardees