We MUST decarbonise world economy by 2050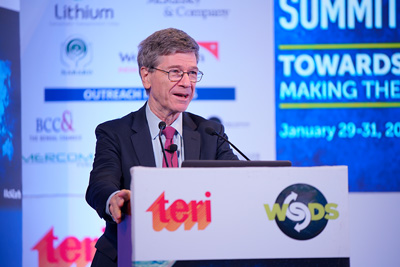 The world is heating up in unprecedented ways. Terrifying typhoons, cycles of flooding and drought, forest fires scorching millions of hectares of land, rising water floods that wipe out entire cities are all par for the course - and we're doing nothing to stop this rapid escalation of climate change. This was the sustainability
wake-up call delivered by Professor Jeffrey D. Sachs
, University Professor and Director, Center for Sustainable Development, Columbia University, at the World Sustainable Development Summit 2020.
Explaining how decades of global climate action conferences had achieved zero tangible impact, he said the definitive need of the hour - reducing CO2 emissions to net zero by 2050 - is likely to fail if we continue on the business-as-usual trajectory. Presenting insights from other countries, he said the most important factor in a region's policy is how much fossil fuel it has on its territory. "The EU has low fossil fuel production per capita - this is a major reason it is committed to decarbonisation. The European Green Deal is the most important breakthrough in the global scene now, and Europe is the only major region bringing its policy in line with the 1.50 Celsius limit."
Most countries have been unwilling to act with the climate proactiveness demonstrated by the EU, for economic reasons. A league of 'status quo' nations (US, Canada, Russia, China, India, Gulf Cooperation Council countries, Australia, Indonesia) today account for nearly three-fourth of all fossil fuel production, and therefore lack the drive to decarbonise. However, the EU's example must be replicated to bring about a series of regional Green Deals participated by North and South America, the Arab region, South Asia, ASEAN, Northeast Asia, and the African Union, Dr. Sachs said.
India is low fossil fuel producing nation and thus has no business joining this 'status-quo' list of countries. Further, India's high population density makes climate threats an even greater challenge for the nation. "No place in the world is as vulnerable to climate as India is," he said. In response, India should move swiftly to change its coal-powered energy trajectory, considering renewable energy is fast becoming a commercially feasible way of powering the grid.
Dr. Sachs outlined his energy decarbonisation approach for India in the form of 10 Bright Line Rules.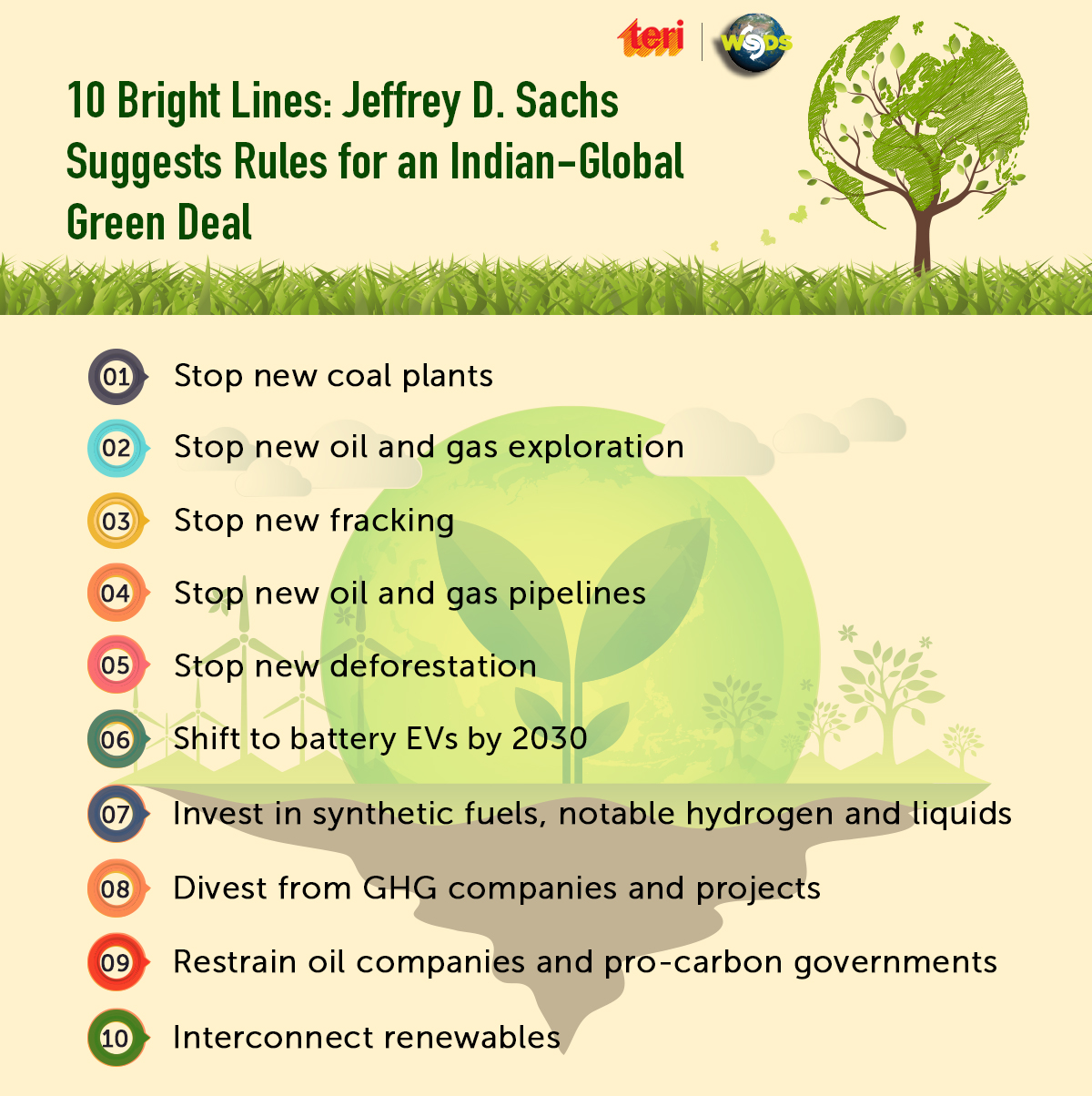 ---
He also recommended unprecedented international collaboration, especially with neighbouring Asian nations, is vital to realise the full benefits of renewable energy. Grids shared across borders can enable high quality, geographically-concentrated renewable energy to be made available to a much larger region. Further, as regions share critical biomes including river sheds, fisheries and other ecological assets across boundaries, cooperation will be vital to protect these fragile ecosystems.
---