Waste no more, build a circular economy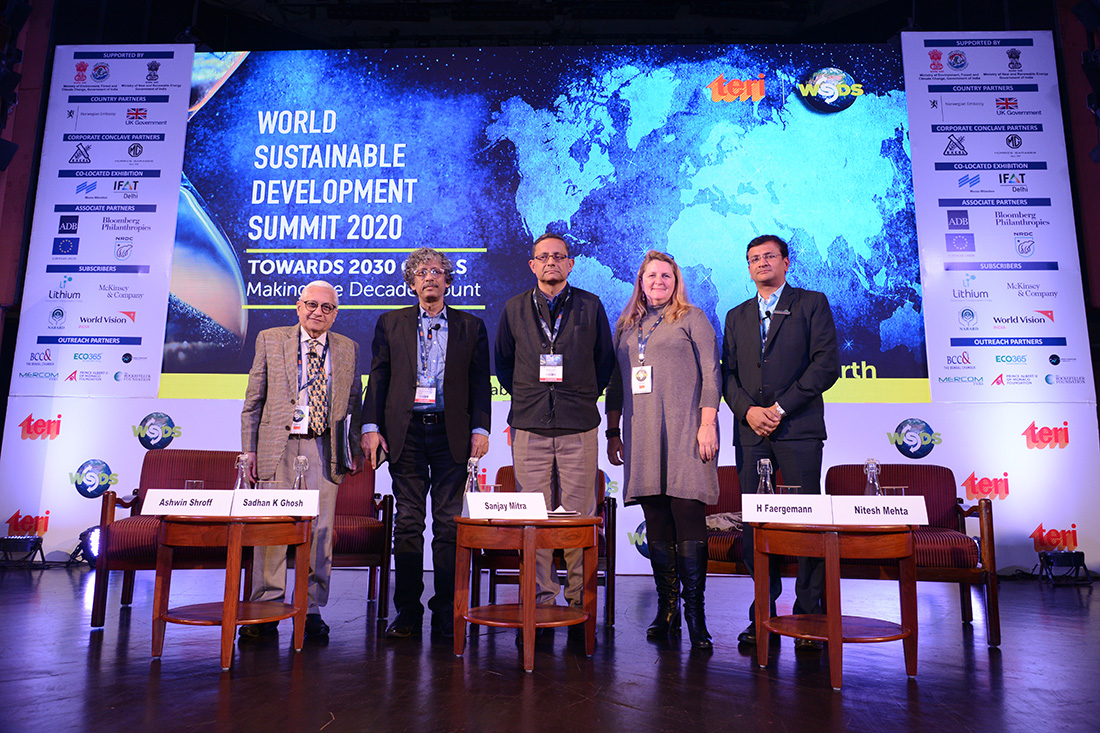 Ashwin Shroff, Chairman & Managing Director, Excel Industries Ltd; Sadhan K Ghosh, Professor & Former Head Mechanical Engineering Department, Jadavpur University; Sanjay Mitra, Professor of Practice, IIT Delhi; Henriette Faergemann, Environment, Climate and Energy Counsellor, European Union Delegation to India; Nitesh Mehta, Co-Founder & Director, Green ChemisTree Foundation
---
India is constantly dealing with the challenge of balancing its economic growth and environmental sustainability. While it has begun the transitional process towards larger uptake of renewable energy and energy efficiency, several other challenges like waste management, among others remain to be resolved. A fast-developing country like India generates various kinds of urban and industrial waste. The waste streams include – municipal waste, construction and demolition debris, plastic packaging waste, e-waste, industrial hazardous, non-hazardous and biomedical waste. These waste streams provide a unique challenge in terms of their management. At the Corporate Conclave of TERI's flagship event World Sustainable Development Summit (WSDS) 2020, stakeholders discussed approaches to address the climate challenge through waste management initiatives.
Currently, 27 per cent of the waste is treated in India, while the rest are dumped. The largest amounts of solid waste come from construction (stones) that contribute to air pollution, followed by kitchen or food related waste. While stones can be used as foundation material and in road fillings, kitchen waste can be composted and provided as manure. It is not difficult to see that things that are passed off as waste, are in reality, resources. There is thus no reason why construction demolition waste cannot replace foundation material because if done right, waste is money.
Finding innovative solutions for effective management of waste is difficult as breakdown of waste requires special processes that entail time, energy, and expense. The new thinking is to address the problem at the grassroots, starting at the very origin of waste generation.
One of the speakers at the session, Mr Ashwin Shroff, Chairman & Managing Director of Excel Industries, highlighted the work his organisation has done in addressing waste at the point of origin. He said, "The practice of dealing with solid waste in India is very lousy. Among the municipal solid waste, the most problematic portion is the organic or food related waste. We converted the organic fraction into compost, that is used beneficially towards crop improvement. This intervention was done not by treating it at a plant where you add to the cost in transportation, collection, etc, but at the local dump yard itself. When we treat waste immediately, it brings down greenhouse gas emission, as methane secretion is stopped at the dump yard. Therefore, decentralised solutions are definitely better than building large waste treatment plants."
Speaking at the session Ms Henriette Faergemann, Environment, Climate and Energy Counsellor, European Union Delegation explained how the EU is taking initiatives to treat 60 per cent of all municipal waste by 2030. She said "The sustainable management of waste and use of resources is at the heart of the European Green Deal. Where waste cannot be avoided, its economic value must be recovered and its impact on the environment and on climate change avoided or minimised. The European Green Deal sets a carbon neutral target of 2050 for the EU. It is a new growth strategy that aims to transform the EU into a fair and prosperous society, with a modern, resource-efficient and competitive economy where there are no net emissions of greenhouse gases in 2050 and where economic growth is decoupled from resource use."
It is now well recognised that we cannot afford to lose it as mere 'waste'. Instead, it is important to view 'waste' as a valuable 'resource' that can be converted into a variety of useful products that can be put to primary use and can be viewed as a process of generating wealth. Similarly, wastewater treatment needs to be reimagined to encourage use of reclaimed water from wastewater treatment plants for non-potable and potable use.
There has been a marginal improvement in the implementation of Solid Waste Management Rules in case of municipal solid waste, especially for collection, processing and transport. Cities have yet to establish scientific waste disposal sites. In addition, framing of national policy on waste management is needed and subsequently framing of respective state level policies and city level action plans will be needed to implement the national policy. These remain to be done.