Long road ahead for achieving India's forestry goals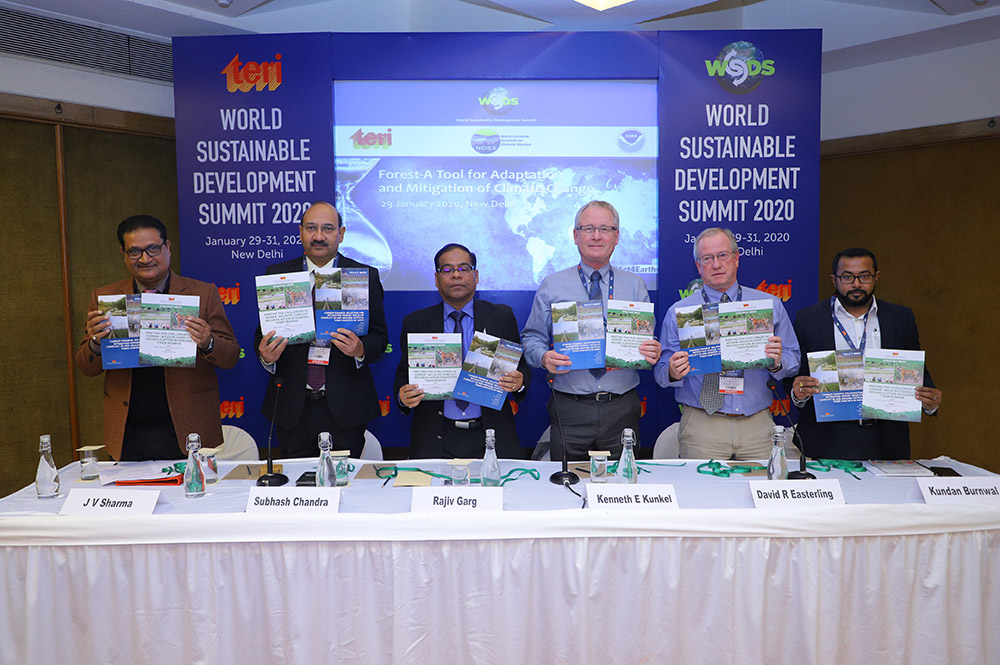 TERI released a policy brief on Carbon Finance: Solutions for mitigating human-wildlife conflict in and around critical tiger habitats of India at WSDS 2020
---
Nearly 50 million people in India live around Protected Areas (PAs) such as tiger reserves and depend on forest resources for their day-to-day livelihood. These communities are often caught in the midst of human wildlife conflict, and are hit by significant economic losses resulting from either loss or injury to life, crop damage, and loss to livestock. But the fact remains there is no steady financial mechanism to compensate these communities for their loss or to rehabilitate them or build infrastructure to protect them. This issue was put forth for discussion at a thematic session on "Forest - A tool for adaptation and mitigation of climate change", organised on the sidelines of the World Sustainable Development Summit, 2020.
During the session, TERI presented a policy brief, highlighting the role of carbon finance in mitigating human-wildlife in and around critical tiger habitats of India. Based on a pilot study conducted in Dudhwa Tiger Reserve in Uttar Pradesh, TERI found that the economic value of ecosystem services (food, water and other resources) provided by the forest was nearly eight times higher than its carbon value. However, most mechanisms in the forestry sector, such as Clean Development Mechanism (CDM) or Climate, Community and Biodiversity Alliance (CCBA) do not recognise the value of ecosystem services. TERI argued that if the real economic value of ecosystem services was taken into account by carbon finance programmes, it could provide dedicated financial support to local communities who live around Protected Areas and enable them to deal with human-wildlife conflicts in a more effective manner.
India's forestry commitments: A reality check
India made an ambitious commitment to achieve additional carbon sink of 2.5-3.0 billion tonnes through additional forest and tree cover by 2030. According to Dr J.V. Sharma, Director, Forestry and Biodiversity, TERI, even if India takes 2015 as a baseline year for reporting progress, the roadmap, roles and responsibilities and financial allocations to achieve this goal remain unclear.
He said most problems that lead to forest degradation lie outside the forestry sector. Be it lack of alternate energy or better livelihood, communities have little choice for survival other than forest resources. Forest departments alone cannot solve these problems and it requires political leadership to provide solutions through key social sectors.
Dr Sharma added that nearly two-third potential to meet the goal of additional 2.5-3 billion tonnes of CO2 sequestration is with agro-forestry, only one-third with natural forests. However, unless farmers are provided a Minimum Support Price for growing trees outside forest, it cannot be an economically viable proposition, and is unlikely to take-off. He also suggested that the MSP for trees outside forests should also factor in a carbon price, to encourage farmers to grow more wood. That there is a large domestic market waiting to be tapped is evident from the fact that India currently imports wood worth Rs 40,000 crores annually.
India's Forest Right Act of 2006 clearly points towards Gram Sabha (village councils)-based forest governance. Given that availability of financial resources will always be a constrain for the government, it is only desirable that communities are involved in the conservation and management of forests. "Additional carbon sink of 2.5-3.0 billion tonnes through additional forest and tree cover is not merely a statement. It has a lot of meaning for India's forests and people,'' said Dr Sharma, underlining that a lot of distance is yet to be covered to make India's forestry goals a reality.