Can we put steel on a low-carb diet?
Reducing emissions to control global warming necessarily involves finding ways to decarbonise emission-intensive industry sectors like steel. What is the pathway towards it?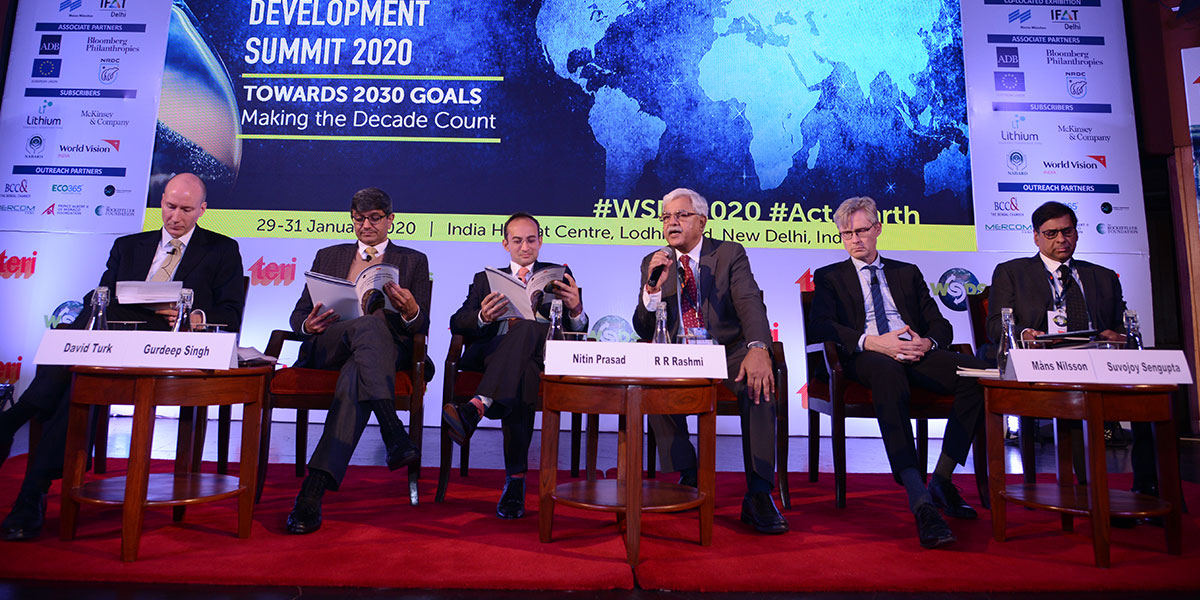 The expert panel at the session on Leadership Coalition on Energy and Industry Transition.
---
Per capita steel consumption is a strong indicator of any nation's economic development. That is the first thing that the India's Steel Ministry website will tell you in bold colours of red and yellow.
There is also a high correlation between GDP growth and steel consumption. Unfortunately for us, there is also a high correlation between steel manufacturing and high emission growth. According to a report released by TERI during the World Sustainable Development Summit, as India's steel demand quadruples from around 111 million tonnes (Mt) to 489 Mt till 2050, carbon dioxide emissions from the sector are projected to go from 242 MtCO2 to 837 MtCO2.
That doesn't leave a lot of glaciers around.
While the same report also gives a number of measures to put India on the pathway to reduce emissions to near zero levels soon after 2050, the WSDS also brought together a number of energy experts to talk about steel decarbonisation and energy in a session on Leadership Coalition on Energy and Industry Transition, on the final day of the summit on Friday.
The session was chaired by RR Rashmi, Distinguished Fellow, TERI who was joined by the distinguished panellists. The session opened with the launch of a report 'Floating Solar Photovoltaic (FSPV): A Third Pillar to Solar PV Sector?' which looks at the potential of floating solar photovoltaics in India.
Turning the discussion to steel, Mr Rashmi talked about how just emission from just the fossil fuel use in steel sector globally is responsible for 6.2% of global emissions total. With steel's seeming indispensability, he asked, "Do we have a low-carbon future if we continue to grow?" While the obvious answer is decarbonisation of steel, it is even more obvious that it would require nerves of steel to pull it off. The panellists however, seemed, optimistic.
Suvojoy Sengupta, Partner & Lead - Renewables within Electric Power & Natural Gas Practice – India, spoke of the term 'decarbonisation' now even reaching boardrooms. This, he said, is not just because of the environmental factor, but also because of the low marginal cost of renewable energy. However, getting to a high renewable energy share percentage is difficult, he conceded.
Also, money talks, he said, adding that there is a need for large investments in carbon capture and storage technologies. However, as the cost of electricity reduces, there could be a situation where it might be cheaper to carry out the high fossil fuel consuming heat applications in steel through electrification rather than first burning these fuels and then using carbon capture technologies.
Either way, it is going to cost money, but is the end user willing to bear the burden of higher costs?
Turns out it might not be that much of a burden at all. Nitin Prasad, Chairman, Shell India, said that the cost of using low-emission steel was worked out in Europe for some products such as automobiles, and the difference in the price was not so much. The challenge, he said, was in reallocating this cost in the value chain.
He also talked about a border tax on steel, something that is also being discussed in Europe. "Steel is a transnational product. We must realise that some markets will be closed to us if we don't bring in next generation technologies (for decarbonisation of steel)," he said.
As it happens, there was a European on the panel. Dr Måns Nilsson, Executive Director, Stockholm Environment Institute, spoke of how some companies in his country now no longer want to use the term 'hard to abate' for their sectors as they say abatement is possible. Consumers too are willing to pay some premium for a cleaner product, he claimed.
Speaking of the Sweden and India-led Leadership Group for Industry Transitions that emerged under the Industry Transition Track of the UN Secretary-General's Climate Summit in September 2019, he stressed on the importance of collaborations.
"The leadership group is willing to deliver roadmaps on sectoral basis and to create platforms to engage and learn best practices," he said, adding that Indian companies in high-emission sectors such as cement and steel have ambitious plans in this direction.
In the Indian scenario, however, Gurdeep Singh, Chairman and MD, NTPC, said that India should start finding its own solutions, be it in carbon capture or other such technologies. He believed that hydrogen, along with carbon capture, can be a game changer. Further batting for the fuel, he said that instead of putting all on our energy in battery storage, we should look at hydrogen as a clean fuel.
"We should try to integrate more renewable energy and non-carbon based sources of energy. We should steadily increase the contribution of renewable energy (in the energy mix) and make sure it is reliable," he added.
Lastly, David Turk, Acting Deputy Executive Director, IEA, took to a power point presentation, reminding everyone that there are no simple or single solutions to reach sustainable green energy goals. The current emissions trends are not encouraging, he said, and the energy demand is only going to increase. In this gap, a variety of actions are required in a variety of sectors to bring emissions to a desirable number.
In plainspeak, "Steel remains vital to the global economy. A strong fall in emissions intensity of steel is required to meet SDG and climate goals," he said, highlighting energy efficiency, renewable energy, carbon capture, fuel switching in the array of measures required to make this happen.