Cutting emissions in times of power cuts
India needs to meet the dual challenge of reducing carbon emissions while putting an end to energy poverty of a large mass of people.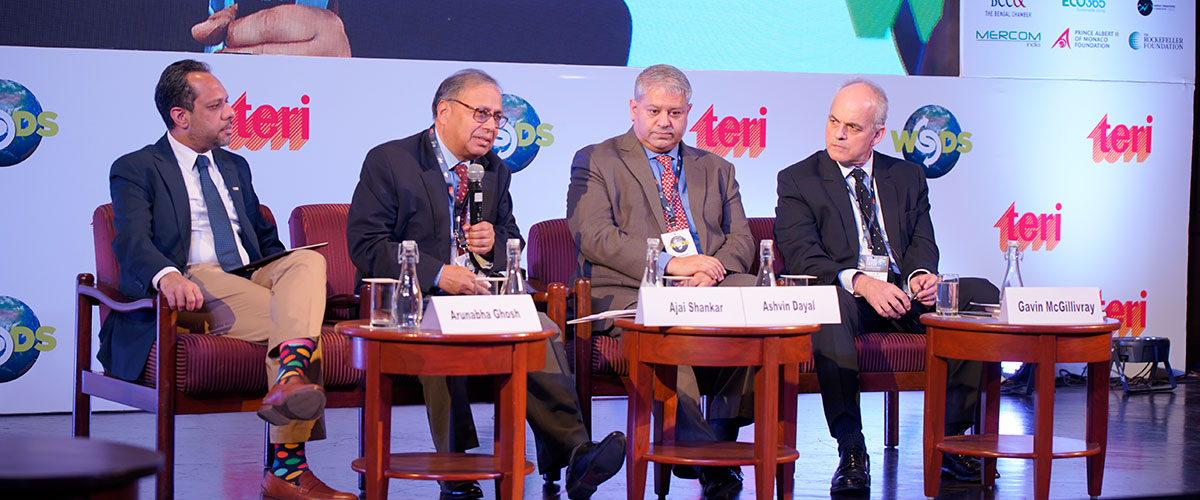 The panel on Beyond Connections discussed Sustaining Universal Energy Access in India.
---
Can we take the cow dung cakes (in India's villages) and get clean energy out of them?
This question, asked on stage during the World Sustainable Development Summit, sets the tone for the realities of India where we have to meet both the challenges of sustainable energy for cities and industries, and also shift millions of rural and poor households to clean energy, and keep them there.
In his keynote address on 'Energy Future Map' on Day 2 of WSDS 2020, Dharmendra Pradhan, Hon'ble Union Minister of Steel, Petroleum & Natural Gas listed several measures by India to increase its share of renewable energy and diversify its energy mix.
Dharmendra Pradhan, Hon'ble Minister of Steel, Petroleum & Natural Gas, India, gave the keynote address on Energy Future Map.
"We are working towards transformation to a gas-based economy, tapping into indigenously produced biofuels, apart from adopting renewable energy and energy efficiency measures, to achieve the much-needed carbon reductions. As part of the energy transition, decarbonisation of the energy sector is picking up momentum in India," he said.
However, he made a point to add that energy self-sufficiency and universal energy access are among the top national priorities. "In our pursuit to end energy poverty in the country, we will remain cognisant of the need to root economic development firmly to achieve the 2030 UN Sustainable Development Goals and commitments made at COP 21," he said.
Highlighting India's success towards meeting the UN SDG Goal 7 on delivering energy access he mentioned the success of the UJJWALA scheme under which LPG connections are now available to 97% population, up from just 55% in 2014, and the PAHAL - the world's largest cash transfer programme for household LPG subsidies.
However, the question remains on how to prevent a return to burning cow dung cakes when money for the next refilling of the LPG cylinder runs out. This was one of the central questions of the plenary session on 'Beyond Connections: Sustaining Universal Energy Access in India'. The plenary, which was also held on Day 2 of the WSDS, was chaired by Mr Ajay Shankar, Distinguished Fellow, TERI.
Talking about the success of India's energy access initiatives, he admitted that in hindsight, from a gender perspective clean cooking should have got priority over electricity access.
Gender does indeed play a major role in continued access to clean energy. Panelist Arunabha Ghosh, CEO, Council on Energy, Environment and Water (CEEW), said that in one of their surveys on energy access, respondents in over two-third of households said that it was men who made the decision on whether the next refill of the LPG cylinder is to be done or not.
Clearly electricity and clean cooking fuel in home then also has to translate to empowerment of the women in the said homes. This was also echoed by Gavin McGillivray, Head, DFID India, who stressed on helping households use their electricity access well and productively. One example he gave was enabling women e-rickshaw drivers through linkages and similar support.
E-rickshaws, however, can't be charged with unreliable power supply. When electricity is used only for household use, people are willing to compromise on reliability, but when it is to be used to power livelihood opportunities, as with many small enterprises run in households in India, then consumers are not willing to make that compromise, said Ashvin Dayal, Senior Vice President, Power Initiative, The Rockefeller Foundation. "There is a huge premium on reliability," he said, adding that that is one of the reasons for the continued relevance of mini-grids, with even some electricity distribution companies showing interest.
"We also have to look at how grid-based innovation at last-mile takes place," he added.
On last-mile connectivity, Mr Shankar too conceded that while India technically has surplus power, the distribution is suffering and electricity distribution is a losing business in India despite two massive bailout packages.
However, as Mr Ghosh, pointed out, money for things such as subsidies can only come during economically stable times. "Many desirable changes in energy access in the last five years have been on the back of reasonable macroeconomic successes. Where is subsidy in times of recession?"
Rethinking subsidies and their usage and reflecting on their sustainability is important. As Mr Shankar said, "We pay for our subsidies as taxpayers. We need to think where our subsidies are spent."