Meeting the climate finance gap for a 1.5 C world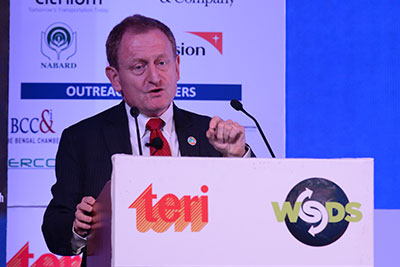 A rethink of climate finance? Mr. John Roome, Country Director, World Bank
If we continue on a business-as-usual trajectory, GHG emissions will continue on a steady upward trajectory. The intervention to limit the world's global warming to 1.5 degree C?
Robust climate finance.
The theme of finance, therefore, runs right through all climate dialogue, said Mr. Dipak Dasgupta, Distinguished Fellow at TERI, addressing the 'Transformative Actions to Revive Green Climate Finance' session. At the moment, climate finance stands at approximately 500 billion dollars per year - much less than the 1.6 to 3.8 trillion dollars that needs to be invested in energy systems alone to achieve a 1.5 degree C scenario (IPCC, 2018).
Stating that the current mix of funds across agencies, developmental bodies, bodies may not be able to meet climate finance need, Dr Surendra Babu, Deputy General Manager, NABARD suggested the need to mainstream climate finance and sustainable development projects through private funding. He also said there was a great opportunity for CSR convergence, scaling up of innovative adaptation and mitigation projects, and instilling more effectiveness, efficiency and equity in international and national funds.
Creating strong markets for renewable energy
"We all agree that we want to be powered by renewable energy, but none of us are willing to pay the extra cost," said Mr. Deepak Bagla, Managing Director, Invest India. At the same time, he added, renewable energy investment was flagging due to lack of perceived returns on investment. Private capital, he said, could bridge this investment gap. The use of strategic partnerships can help give investors a menu of viable renewable energy projects to invest in, while also establishing best practices for renewable energy business models.
While India has a strong economy, resilient judicial and strong demand for renewable energy, making it an attractive market for investors necessitated assured timely payments, said Mr. Anand Kumar, Secretary, Ministry of New and Renewable Energy. Renewable energy investors also need a strong element of certainty when signing contracts. "The first mantra of attracting investment: communicating to your investors that investment is safe - the battle is half won. This allows the investor to take a risk on returns."
Focusing on the innovative approach to making renewable investments more viable for investors, he said that India's renewable energy sector was bringing in a new payment security mechanism. An extra 0.1 cent is being added to the energy tariffs charged to solar developers, this 0.1 cent adding up to a significant amount when considering India's 175 GW renewable energy aspirations. The accrued amount investors: they will get their payment on time.
Rethinking climate finance
Rather than focusing on creating more sources of climate finance, it was more important to ensure that regular finance was climate-smart, said Mr. John Roome, Country Director, World Bank. For India, he said, this could mean investment in manufacturing efficient air conditioning, batteries, EVs at a scale that drives down cost and creates excitement in the market to invest in sustainability. Further, infrastructure planning must be made climate-ready.
Further, carbon pricing and participation in the carbon markets must be given the political support it will need, as these will become prominent in the future. Policymakers must also identify how carbon-pricing's revenue is used for sustainable purposes, he added. In sum, he said that it was not about the quantum of money, but how it is used to unlock private and public sector investment and achieve the necessary scale and ambition.