India must get it right for SDGs to succeed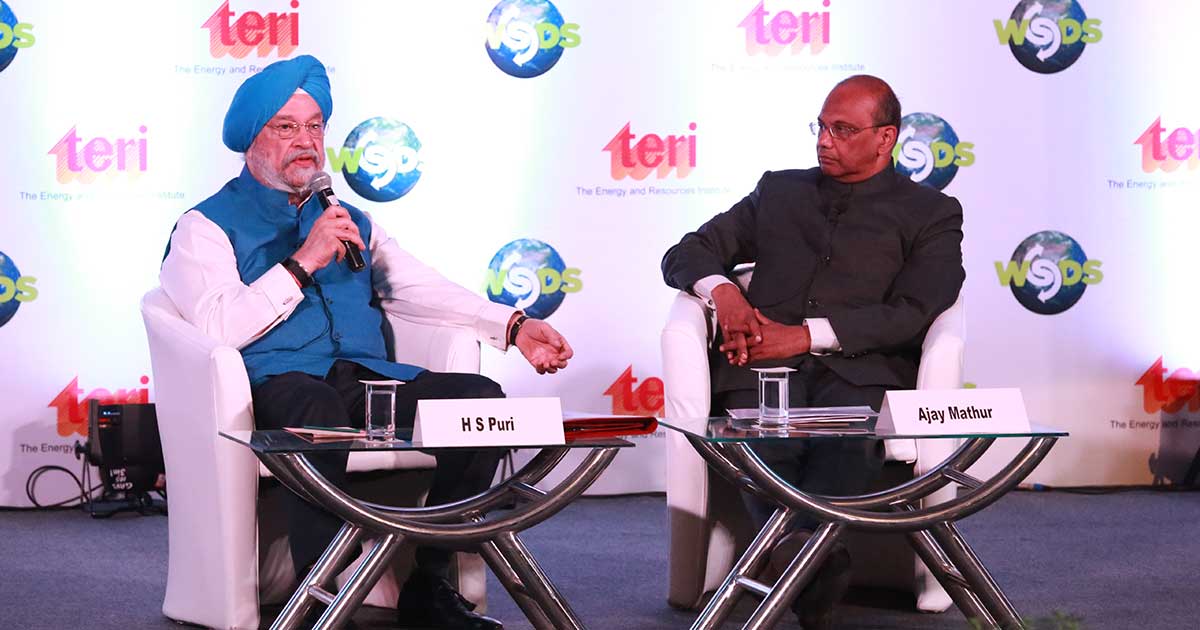 India can meet the challenge of urbanisation successfully
---
Delivering the keynote address on India and the Urban Agenda for 2030 at the World Sustainable Development Summit 2018, Shri H S Puri said the current effort of the Modi Government is perhaps the most comprehensive and ambitious framework of planned urbanization undertaken anywhere in the world.
While the idea of sustainable development has been around for a long time, the Sustainable Development Goals saw an aspirational set of goals for the global community in 2015, he said. The previous set of goals had been designed and finalized by OECD and came into the multilateral system almost on an "accept or leave" basis. The multilateral system in the UN adapted those goals but there were clear limitations, he said. Now, there is need of a far more ambitious agenda in terms of sustainable development and targets. The successor goals need to be finalized in a bottoms-up approach, involving all stakeholders. Also, there is now an agreement that SDGs and the 2030 agenda in fact embody that collective aspiration.
Shri Puri said there is absolutely no doubt that the success of the SDGs will largely depend on India. If India gets it right, he said, the SDGs will succeed and, for SDGs to succeed, India must get it right. For India, it is not just Goal 11 that makes cities and human settlements inclusive, safe, resilient and sustainable, but several of the other goals that are integrally intertwined in a comprehensive agenda.
India and Urbanization
In 1947, only 17% of India lived in urban space out of a population base of about 300 million. According to 2011 census, 30% of India lives in urban spaces out of a population of approximately 1.3 billion. Those working on issues relating to urbanization need to work backwards from 2030 because by 2030, we will have 600 million living in urban spaces. This clearly represents a huge developmental challenge for India, he said, assuring all that India can meet this challenge successfully.
Shri Puri said, "I was often told that India is a reluctant urbanizer. This a western point of view where they tend to compare India's space with that of Brazil. Brazil has 3 times India's land area and one -sixth of India's population. India is very different: two-thirds of India lives in rural spaces, and agriculture accounts 14.5–14.6 % of our GDP. But cities are also engines of growth and 66% of GDP comes from our cities and 90% of tax receipts come from the cities."
Flagship programmes by the Government
Shri Puri elaborated on three flagship initiatives of the Government of India: Swachh Bharat, Pradhan Mantri Awas Yojana, and the Smart Cities Initiative.
Strongly advocating for measures to counter open defecation and solid scientific wasted management, Shri Puri said, "If you are looking at targets of number of toilets to be built, we have done 52 lakhs out of 67 lakhs. In terms of community toilets, we have built 2.6 lakhs out of 5 lakhs.  I have no doubt that this will be achieved a year in advance of the target." He said there is a focus on creating civic awareness because the target can't be achieved without people's cooperation. "We have very good policies in place in terms of waste treatment; and we need to see major economic entities implementing those policies on commercial and viable basis."
Shri Puri said the Pradhan Mantri Awas Yojana is on its way to become a success. The title of houses built under the scheme will be in the name of a woman in the family as part of efforts to boost woman empowerment.
Speaking about Smart Cities, Shri Puri said, "It is a brown-field redevelopment, where we take our existing resources and produce ease of living for women, aged and physically-disabled." Between the time the project was launched and the first set of 20 cities were announced in May 2016, it has probably witnessed the fastest rate of implementation. This has been made possible by professionals handling Special Purpose Vehicles. "Money is an issue; if land urbanization has to succeed, urban local bodies should raise finances. Pune and Hyderabad have been able to do that; other local bodies should follow," he said.