Pre Events
A series of pre-events hosted in various Indian cities to deliberate on and highlight the sustainability issues vital to that region.
Bengaluru
Bengaluru Regional Dialogue on Sustainable Development
December 22, 2017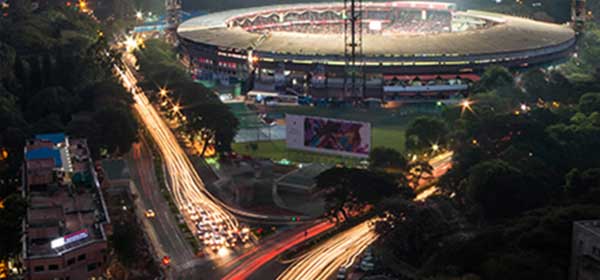 TERI, (The Energy and Resources Institute), has been at the forefront of the movement to understand and manage climate change. For India this is closely tied to our need for rapid development. However, to ensure that our development is sustainable, we must let it have the least negative effects on our lives. To cater to this need, a group of SDG experts from varied backgrounds, such as economics, management, defense, international aid agencies, government, statutory regulation, and others, have been coming together over the last year to discuss major issues in this regard, with a focus on important policy issues and some examples of practical actions.
To highlight and showcase the observations of this group of distinguished experts, TERI organized the "Bengaluru Regional Dialogue on Sustainable Development", on December 22, 2017, a forerunner of TERI's flagship event: World Sustainable Development Summit, slated for 15-17 February, 2018, to disseminate and debate the group's findings. The group also looked at Karnataka's Sustainable Development and the challenges moving forward.
The conference initiated multi stake-holder discussions around specific sustainable development issues, in Power, Water, Agriculture, Urban issues, Traffic, Health, Education, and other issues. It  also observed and discussed the prevalent best practices, and the way forward towards outlining a sustainable development road-map for the state and the country. These initiatives demonstrate a strong counter-current to trends of unsustainable resource use and ecosystem degradation which is believed to be shared and show-cased. The group will also be publishing a synthesis report in the form of a book to highlight key learning from their groundwork, which will be further featured during the World Sustainable Development Summit, in February 2018, in New Delhi.
---
Mumbai
Environmental Technologies Conference
September 26-27, 2017
IFAT India, India's leading environmental trade fair for water, sewage, refuse and recycling along with The Energy and Resources Institute (TERI) a think tank dedicated to conducting research for sustainable development is organized a conference named, Environmental Technologies Conference by TERI-powered by IFAT in Mumbai on September 26-27, 2017.
IFAT India facilitated an additional high class dialogue with multiple stakeholder groups, including representatives notably from industries like air and water management, environment and waste management. The powerful platform witnessed deliberations on the need for cleaner and resource-efficient environmental technologies that are effective and economically viable.
The Conference deliberated and addressed development priorities with a focus on the need to make appropriate choices while adopting technologies and building infrastructure. It also engaged senior government officials, members of civil society, academia and other stakeholders who focused on the themes of: Air Pollution, Solid Waste Management and Urban Water Management in the context of Sustainable Development.
These deliberations will be further posed at the World Sustainable Development Summit (WSDS), the annual flagship event of TERI to be hosted from 15-17 February, 2018 in New Delhi.
Kolkata
Urban Landscapes: Transformative Approaches
February 28, 2017
TERI in collaboration with the Bengal Chamber of Commerce and Industry (BCC&I) hosted the first pre-event in the run-up to the next edition of the WSDS. The Kolkata Regional Dialogue was the first in a series of dialogues to be hosted later in the calendar year in the Indian urban conglomerates of Mumbai and Bengaluru. This series of Dialogues addresses key urban issues related to the realms of – waste, water management and sustainable habitat. This particular session brought together, experts working on various issues at the urban level, to discuss the various facets and challenges we face and find solutions to them.
Agenda | Proceedings
In News
TERI, along with BCC&I, holds its first Regional Dialogue as a precursor to World Sustainable Development Summit 2018 read more →