India's Burgeoning Solar Sector Urgently Needs a Recycling Policy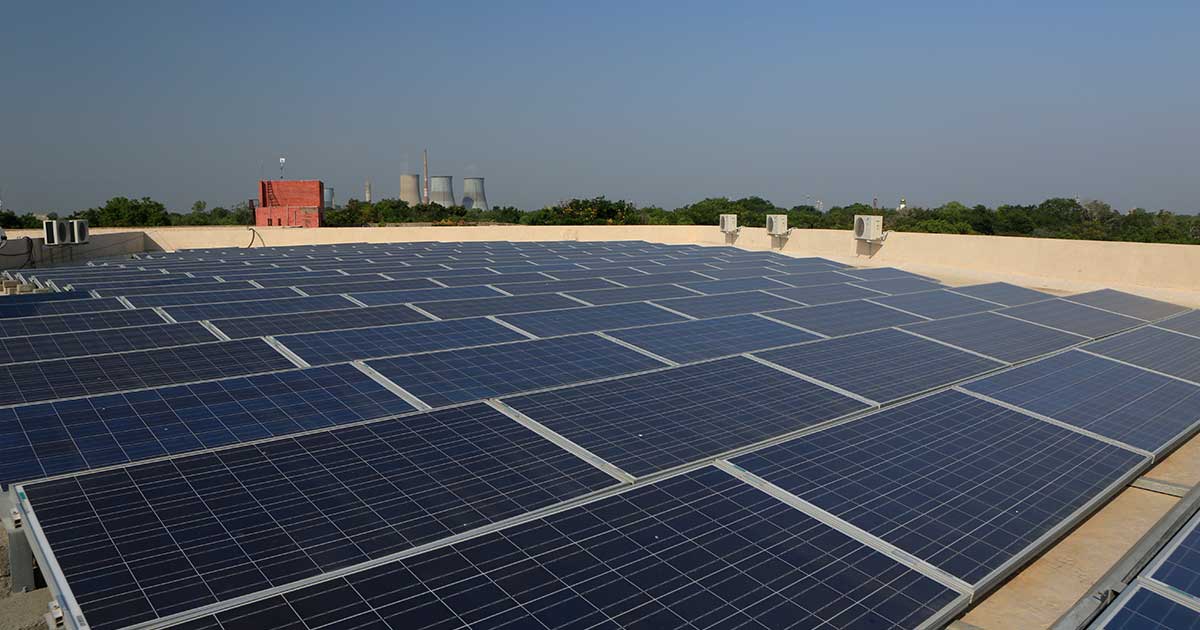 India seeks to install 100 GW of solar capacity by 2022
---
A move to renewable energy, especially solar power, is one of the key ways in which the world, and India are mitigating climate change. But while the shift to solar power is laudable, it brings with it some unique challenges—to increase resource use efficiency in product design and manufacturing, and more importantly in dealing with end of life recycling.
On the first day of the WSDS 2018, stakeholders from across the solar value chain—policymakers, manufacturers, academia, and solar energy companies came together to discuss some of the key technological advances as well as challenges emerging in making the solar sector greener. The discussions were divided into two broad themes—one on technical issues in resource use in the solar PV value chain, and the other on business models and policies fostering this resource efficiency.
New Technologies Promise More Power Per Square Foot
Technological advances in solar technology are driving efficiency of panels, consequently driving down costs of generating solar power. Prof. Viresh Dutta from the Centre for Energy Studies, IIT Delhi, said 30% efficiency of solar panels is the next goal for researchers. Mr Parth Bhatt, Sr Engineer at Waree Technologies, however, was of the opinion that there are significant challenges in stability and availability around new technologies, and at best they should support silicon and not seek to replace it.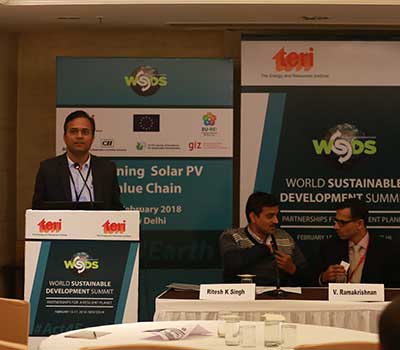 Recycling in the Solar Sector Needs Immediate Attention
There was unanimity among the participants of the discussion that India needs to put in place firm regulations for recycling of solar panels. Mr V Ramakrishnan, Director, TORP Systems, held that recycling costs should be paid for upfront. Mr Sujoy Ghosh, Country Head – India, First Solar, echoed this by saying that recycling costs should be built into the cost of the project. Mr Rritu Saurabha, Director, YES Bank, added that recycling should be made obligatory and a part of power purchase agreements. The panelists lamented the lack of regulations for recycling solar panels in India, saying that current policies do not encourage resource efficiency.
Mr Sunil Jain, CEO & ED, Hero Future Energies, highlighted the scale of the problem, saying that India would need over 3,500 million panels to achieve stated generation goals of 100 GW. Technology, he said, would have to be leveraged to track and effectively dispose of these panels when they reach end of life. Mr Ashish Khanna, CEO & ED, Tata Power Solar Systems, said that as technology advances, panels may even be replaced midway through projects, bringing more urgency to setting up robust and accountable recycling infrastructure.
India Needs to Develop New Technologies, Adopt Best Practices
Pointing out that some amount of secondary material management already exists as a part of business cycle of manufacturers, Mr Agostinho Miguel Garcia, Principal Consultant, SunBD, said that while best practices are available, they may not be followed everywhere. Mr Satyendra Kumar, CTO & Chairman, VS Saurya Enertech, said India may want to focus on smaller, distributed infrastructure for recycling, rather than large centralized facilities.
The participants came together to seek accountability and enforcement of mandatory recycling, by holding manufacturers, suppliers, and project developers responsible for ensuring that it is reliably conducted. Across the manufacturing value chain, the participants felt that enough focus is already being given to developing new technology and making manufacturing processes more efficient. It is recycling that is in dire need of attention.