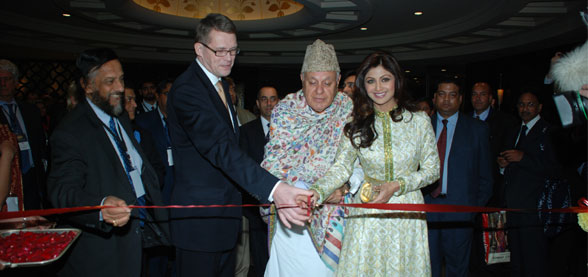 Providing a platform for 34 leading exhibitors to showcase their cutting edge climate change technologies and projects to a global market, TERI (The Energy and Resources Institute) organized the third International Climate Change Exhibition on the sidelines of DSDS 2010.
Inaugurating the exhibition, Dr Farooq Abdullah, Union Minister, Ministry of New and Renewable Energy (MNRE), Govt. of India, hailed it as an excellent platform for companies to showcase their new environment-friendly technologies that facilitate low carbon growth, and for the public to become aware of such technologies that can contribute towards effective adaptation to climate risks.
In order to provide a momentum to the solution-finding process, the exhibitors, including major companies, international NGOs and government agencies, are demonstrating new technologies, products, and services aimed at mitigating greenhouse gas emissions. The exhibition also showcases examples of successful transfer of technologies for greenhouse gas reductions, and builds capacity and knowledge on climate change among different stakeholders.
In the collective effort to combat climate change, ICCE is more relevant now than ever in creating public awareness on ways to mitigate adverse impacts of climate change caused due to anthropogenic activities.