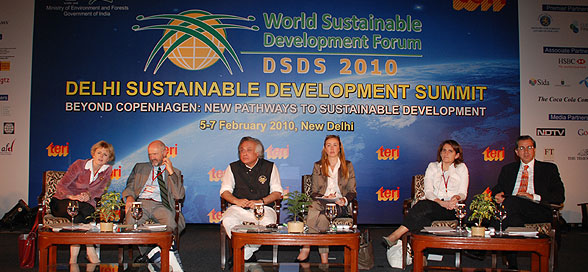 The final day of DSDS 2010 commenced in style with a dynamic and unique ministerial session, which included a rare gathering of the current COP presidency in Denmark, the next COP presidency in Mexico, the current EU Presidency of Spain, in addition to representation from France, Italy and India. The session deliberated on the likelihood, nature and scope of a LBA (Legally Binding Agreement).
In his closing remarks, chairperson of the session
Mr Jairam Ramesh
, Hon'ble Minister of State (I/C) for Environment and Forests, Ministry of Environment and Forests, Govt. of India summarized the discussions including the question-answer session, and raised three core issues that need to be addressed in the run up to Mexico - the mechanisms and methodologies towards compliance; drafting an LBA around the principle of 'Common but Differentiated Responsibilities and Respective Capabilities'; and equity in the GHG flows.