Sustainable Development Leadership Award
Instituted by TERI in 2005, the Sustainable Development Leadership Award felicitates global leaders for their contributions to the field of sustainable development. The Award is presented at the Delhi Sustainable Development Summit as TERI's tribute to eminent individuals engaged in encouraging global initiatives that can lead the world towards a sustainable future.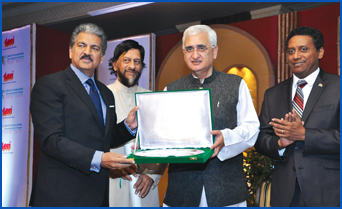 TERI is proud to honour
Mr Anand Mahindra, Chairman and Managing Director, Mahindra & Mahindra, with the 10th Sustainable Development Leadership Award
, in acknowledgement of his manifold contributions in the field of sustainable development.
The Mahindra Group has moved forward on the path of sustainability and environmental awareness under Mr Mahindra's visionary leadership. His commitment to the cause of environmental activism has woven together sustainability and profits in the Mahindra Group, making it a role model for other Indian corporates. In the area of CSR, he has also made seminal contributions in several fields, particularly in the education of the girl child.
The Mahindra Group has worked incessantly to reduce its dependency on fossil fuels and enhance the quality of the environment. E2O, India's first electric car manufactured in the first-ever national platinum certified green factory, is a testimony to their meritorious cause. Their foray into solar technology, eco-tourism, and green real estate, among others, is a further step in this regard. Actively dedicated to the green cause, their Mahindra Hariyali project planted a total of 1.74 million trees in the year 2013 and the Group's Zaheerabad factory converted a semi-arid region into a 343-acre lush green belt, setting the Mahindra Group apart from others on the corporate spectrum.
2013

HE Mr James Alix Michel

President of the Republic of Seychelles