Session Details
Prime Minister of India Dr Manmohan Singh inaugurates DSDS 2011

2 FEBRUARY 2011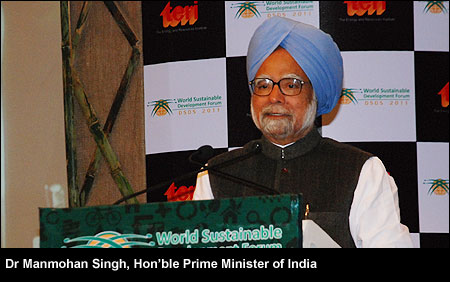 The session began with Dr R K Pachauri welcoming all the delegates to the summit. He then elaborated on the theme of the summit "Tapping local Initiatives and tackling global inertia". He highlighted some key areas like transport, oil, housing and construction, and renewable energy where local initiatives could play a major role in ensuring a path towards sustainable development. He also introduced the theme of DSDS 2012—"Protecting Global Commons, 20 years post Rio".

Delivering the inaugural address, Dr Manmohan Singh, Hon'ble Prime Minister of India emphasized on the importance of the summit and how it has become an important landmark in international discourse on sustainable development. He highlighted that the major development challenge of our times is to ensure that development is not at the cost of the well being of future generations. He then suggested two central principles for environmentally sustainable governance: [1] setting regulatory standards and ensuring effective enforcement, and [2] 'polluter pay principle' as a means to address externalities. He also underlined the importance of coordinated and responsible global actions to deal with cross border externalities like climate change and stressed on capacity building at the local level to ensure effective management of common property resources. He further highlighted India's constructive efforts at the global level and its domestic initiatives in addressing climate change and stated that the next Five-Year Plan (2012–2017) will focus on special initiatives on development, which are consistent with low-carbon growth.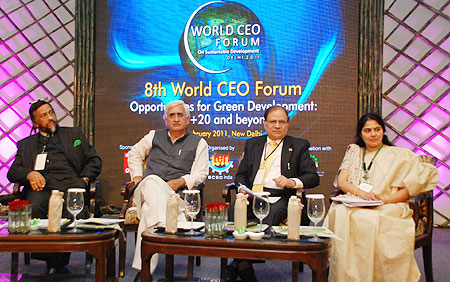 Welcoming the august gathering to the World CEO Forum 2011, Dr R K Pachauri stressed on the growing responsibilities of corporate institutions in addressing sustainable development. He underscored the frequent scrutiny of corporate decisions. Highlighting the theme of the discussion, Opportunities for Green Development: Rio + 20 and beyond, he reiterated the need to assess the expectations outlined at the Rio summit in 1992 and pave the way forward.
Expressing his pleasure in being TERI-BCSD's partner, Mr Bjorn Stigson drew the attention of the gathering towards the role of developing nations in sustainable development. He appraised the role of China, Korea, and Japan in building the world's green powerhouses, while talking about Vision 2050, a new generation of businesses. Dr R S Sharma appreciated the role of TERI and Dr Pachauri in particular, in bringing together over 100 top CEOs at TERI-BCSD and welcomed the new executive committee members.

Highlighting the government's concerns, the Chief Guest, Mr Salman Khurshid, said that sustainable development is essential for the salvation of the coming generation. Acknowledging TERI's contribution, he stressed on working shoulder to shoulder towards the goal. Concluding the session with a vote of thanks, Ms Annapurna Vancheswaran, recognized the work of Mr Khurshid as erstwhile Minister of Corporate Affairs, in developing National Volunteer CSR Guidelines.
Keynote addresses by leaders - VIP panel I: Policy challenges for sustainable growth
3 February 2011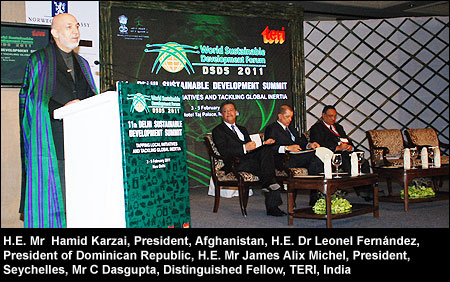 The august panel, comprising the Presidents of Afghanistan, Dominican Republic, and Seychelles, highlighted the need to step up international action on climate change, foster international cooperation on the issue, and the need of financial support for developing countries, which will be affected the most by climate change.
According to Mr Hamid Karzai, President of Afghanistan, 'There is a need for cooperation on environmental issues like proper use of water and transportation. Similarly, support is required to tackle climate change for ourselves, as well as for future generations'.
HE Dr Leonel Fernández, President of Dominican Republic, explained that his country has recently started a 15–km-long underground mass transit metro system to facilitate public transportation, while simultaneously reducing CO2 emissions. 'A study has revealed that students save a significant amount of time by using the metro. They spend their time reading while travelling. So, an international investment on a mass transit system to reduce emissions can also act as an investment on education', HE Fernández elaborated.
Highlighting the perspective of small islands states, HE James Alix Michel, President Seychelles explained, 'Island nations are in the frontline of climate change. It will affect fish catch, agriculture, water resources, and our ability to feed people…Climate change will threaten our very existence. So, we will have to continue to fight for our right to exist'. He emphasized that not just island nations, but all other countries will bear the brunt of climate change. Hence, it is a problem that leaders of neither developed nor developing countries can ignore.
Special address by Mr Jairam Ramesh
Minister of State (Independent Charge) for Environment and Forests, GoI
4 FEBRUARY 2011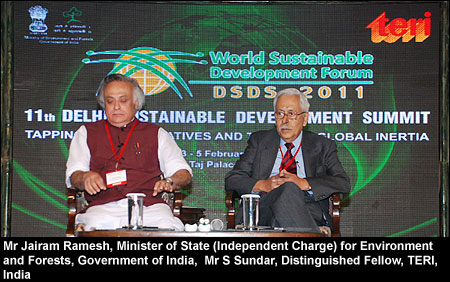 Mr Jairam Ramesh focused primarily on the roadmap to be followed from Cancun to Durban and beyond. he stated that Cancun was a political success, but was disappointing from the environment point of view. He said that Cancun provided a platform for Durban and a template for actionable points and eight major issues: shared vision of all the nations, adaptation, mitigation, forestry, biodiversity, market mechanism, finance, and technology development. Regarding India's position, he stated that India will continue to approach international environmental issues in a proactive spirit that is acceptable to all the parties.
Mr Ramesh added that we need to recognize the value of marine biodiversity in carbon sequestration. He further elaborated that the essence of science is to keep refining it and the process has already begun in India where a team of 250 scientists spread across 128 research institutes are working on climate change research. Regarding the most important initiatives, the Minister stated the Global Carbon pricing is a desirable objective but at the same time it is difficult to get countries like United States on board.
Special address by Mr Montek Singh Ahluwalia
Hon'ble Deputy Chairman, Planning Commission, India
5 FEBRUARY 2011
The session focused on the global agenda for achieving sustainability. Mr Ahluwalia expressed concern over the execution of the global plans, in the past decade. However, he added that the scenario has changed in India, because the country has started strategizing the energy policies in the Twelfth Five-year Plan. He also focused on achieving country wise directives on policies and regulations and then strive for sensible global actions. On the issue of mainstreaming the National Action Plan on energy security and low carbon growth strategies, Mr Ahluwalia pointed out that the Integrated Policy on Energy is being appreciated and is helping to internalize cost of the scarce resources. Dr Ghosh asked how the Planning Commission proposes to achieve a state of equilibrium in implementing research and development in the energy sector. Mr Ahluwalia confirmed that there are budgetary allocations made by all the energy specific public sectors for research and development work. As of now, in India, budgetary allocations are in place only for research and development work in the atomic energy sector. But, with the Twelfth Five-year Plan in place, within next five years time expenditure towards research and development can be mainstreamed. Mr Ahluwalia satisfactorily answered a number of other questions posed by the audience.
Sustainability: The road towards robust global recovery
4 FEBRUARY 2011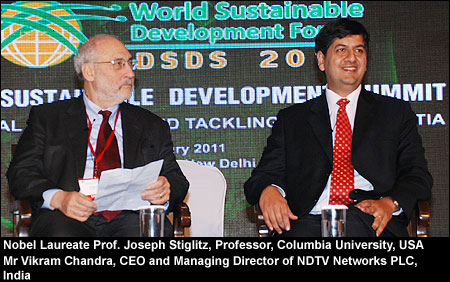 The session moderated by Mr Vikram Chandra opened with a question for the audience- "Is economic growth an integral part of attaining sustainable development?" The audience went with a resounding yes (over 50 % answered in the affirmative). But, what kind of growth should we aim for? The answer, according to Prof. Stiglitz, lies more with the kind of growth that Europe has been moving towards with stricter emission norms. He suggested more carbon taxation and policies that aim at carbon reduction.

He said that the cause of environment sustainability could become the next big driver of economic growth in the western countries, suggesting that oil and gas lobbies and other special interests group are not helping the cause. The Nobel laureate proposed the penalizing of the developed world for their industrial growth and a demand for them to pay a heavier price for climate change. In his opinion, the world cannot sustain itself by imitating consumption pattern of the US. He said that the best way to control emissions will be to go with an equal per capita emission.
Bearing the Costs
4 FEBRUARY 2011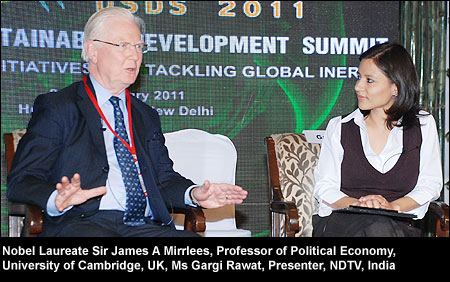 Several negotiations, ranging from Kyoto to Cancun, have tried to look at solutions to climate change, but have failed to reach an overarching solution to emissions. Recognizing this, Sir James Mirrlees focused on academic solutions. He stressed on imposing carbon taxes and ensuring technology transfers between countries.

In order to reach an agreement, countries must recognize both short- and long-term benefits. In his model, Sir Mirrlees employs the Nash bargaining solution method, whereby there would be a limitation to emissions by each country, based on its economy and size. The model also includes technology transfers between nations, enabling equity and benefits.

The model's result showed that a bargaining solution did exist. However, it also identified the need to determine the total level of permissible emissions. This would work only if there are greater benefits than costs.

For successful reduction of emissions, politicians and economists must come together. Also, negotiations could focus on the level of global emissions, the allocation of emissions to each country, and the reduction of burden through transfers. Finally, the heaviest emitters must be included in any successful agreement. Thus, an agreement on carbon taxes, emissions reduction, and technology transfers could result in global benefits.
Transforming Societies for a Sustainable Future
5 FEBRUARY 2011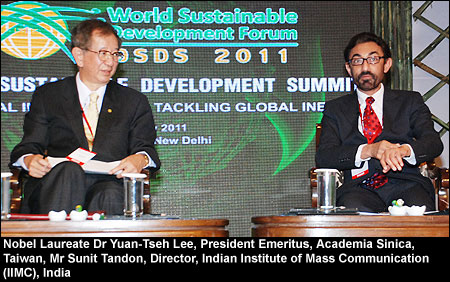 Dr Yuan-Tseh Lee reflected on a time when humanity was a clear part of nature and depended on the sun for energy. The Industrial Revolution changed this relationship as human society industrialized and discovered fossil fuels. After World War II, new technologies began emerging rapidly. Alongside technology grew a culture of mass consumption. There are now a total of 6.8 billion people on the planet, Dr Lee said, who consume 1.4 of the earth's resources annually. As a result, extreme events have increased and energy prices are continually rising. However, nature is already issuing warning signals. Dr Lee emphasized that we simply cannot follow the American and European paths of development. He focused on three things that need to be done in order for us to see a more sustainable future. First, we must go back to the sun as a source of energy. Second, science and technology must be advanced for the community and society. Finally, we must tap into the rich cultures and traditions of the people who lived on this earth without modern technologies. Dr Lee stated that we must promote and support local solutions adding up to global solutions.
Valedictory session – The way forward
5 FEBRUARY 2011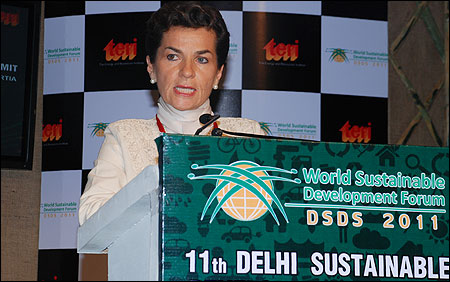 Dr R K Pachauri began the session by paying tribute to Prof Nicholas Georgescu-Roegen, the founder of the discipline of ecological economics on his birth anniversary (February 4) and announcing the launch of the UNESCO Chair of Climate Science and Policy at TERI University.

Ms Christiana Figueres, in her special address, referred to the Cancun agreement as a big step for the committee of nations, but a small step for the planet. She said that at the international level, the main achievements of the agreement were a collective effort to reduce GHG emissions, a comprehensive package of support to developing countries, and a strong signal to the sub-national and private sector. At the national level, the focus was on adaptation and mitigation challenges and integrating climate change concerns into the development agenda through Nationally Appropriate Mitigation Actions (NAMAs).
Dr Pachauri then provided a succinct summary of the Summit deliberations, making a special reference to the issue of inter-generational equity and justice, raised by Dr Manmohan Singh, Hon'ble Prime Minister of India in the Summit's inaugural address.

Lord John Prescott, Former Deputy Prime Minister of the United Kingdom in a highly emotional intervention, lauded TERI's Lighting a Billion Lives campaign and remarked that this Summit as an event was far more important than Davos. The session concluded with a Vote of Thanks by Dr Pachauri and announcement of the next DSDS (2–4 February 2012) on the theme 'Protecting the global commons: 20 years post Rio.'