Greenovation Exhibition
It is now an established fact, that, action towards sustainable development and climate change cannot be procrastinated any further. With rapid improvements in technology, there is a realisation that a majority of solutions lie in existing and emerging technologies applied to different areas of sustainable development.
Driven by the sustainability agenda, the third edition of the Greenovation Exhibition series is organised during the World Sustainable Development Summit, from 11-13 February 2019, at the Char Minar area of the India Habitat Centre, Lodhi Road, New Delhi. The venue has a total of 15 stalls and offers an excellent opportunity on a single platform for organizations to demonstrate sustainable ideas, the very best of technologies in the areas such as water conservation, waste management, sustainable transport, and renewable energy. The exhibition aims to equip the sustainable development industry and its stakeholders with the necessary partnerships and solutions to strengthen and expand its endeavours.
The Exhibition will address and emphasise the glaring need for the global community to make the decisive push for sustainable technologies as an integral part of climate action. Exhibitors will have an ideal forum to interact with top business leaders, subject experts, policy-makers, innovators, corporates, academicians and other important stakeholders to assess market potential, review latest technologies, products & solutions across the three days of the Summit.
Exhibition Layout
---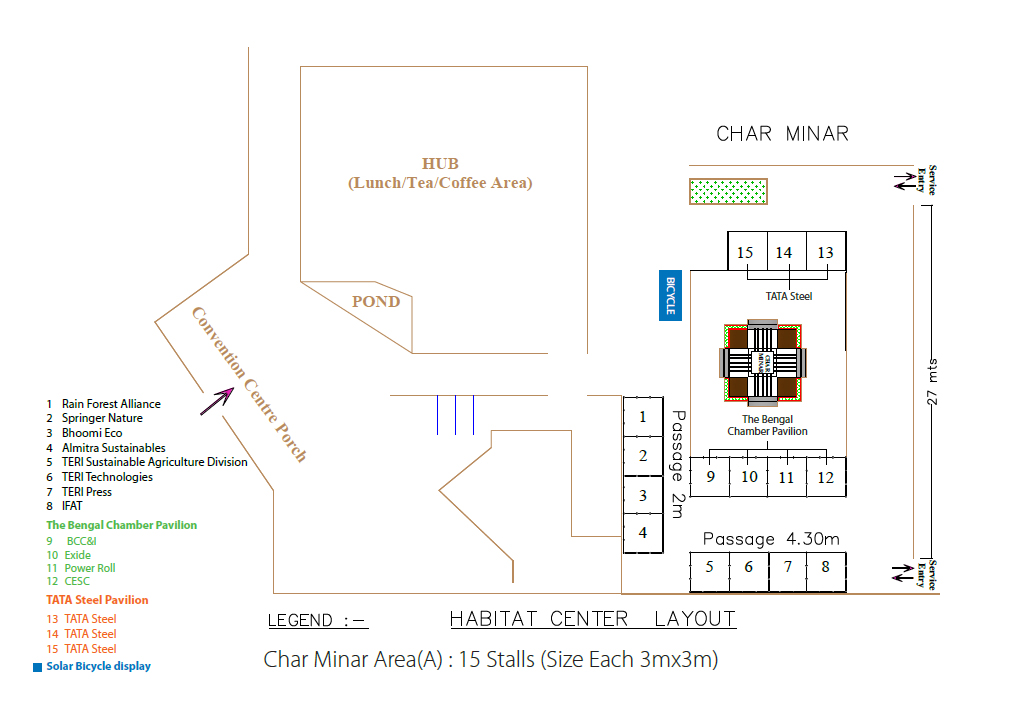 Stall Details
Each 3x3 square meter stall has three side walls in octanorm system with wall panels, fascia board, floor carpet, one information desk, two chairs, three spot lights, one power socket, carpet and roofing
EXHIBITORS