People's Participation Crucial for Success of National Clean Air Programme

Special Session on Cleaning the Air in India and its Cities
To combat air pollution, New York City used a combination of fuel transition, energy efficiency, and plantation of one million new trees. As a result, life expectancy in the city increased by three years, emissions fell by nearly 20 percent, and both job creation and investment rose. This example kicked off the WSDS 2019 Special Session titled 'Cleaning the Air in India and its Cities' with a special video message from Michael R Bloomberg, Founder, Bloomberg LP & Bloomberg Philanthropies and the 108th Mayor of New York City.
Bloomberg Philanthropies' first-hand understanding of the immediate benefits of clean air has led the New York-based organisation to partner with The Energy and Resources Institute (TERI) and the Shakti Foundation to launch an initiative on air quality in collaboration with the Indian Ministry of Environment, Forest and Climate Change (MoEFCC). The initiative is a concerted effort between research and civil society organisations to offer technical assistance on air quality issues in support of India's National Clean Air Programme (NCAP). The project will work to develop better understanding of air pollution sources through emissions inventories and source apportionment studies; formulate policy recommendations and action plans to address air pollution on the basis of data, evidence and consultations, and increase capacities of key stakeholders to address the challenge through the exchange of experiences and good practices.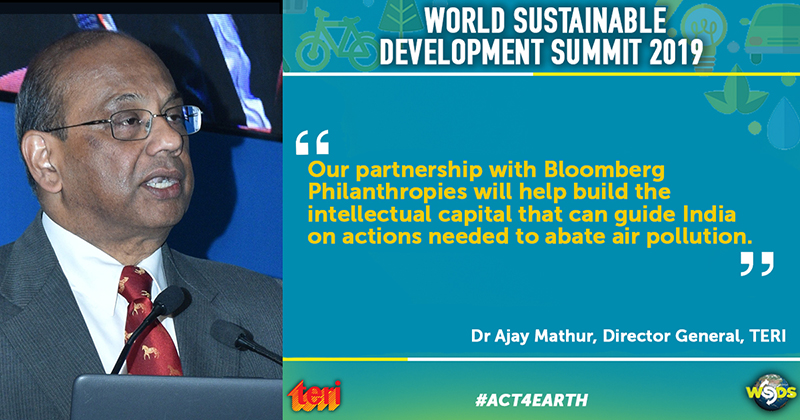 People and partnerships
The Bloomberg Philanthropies-supported initiative is in agreement that the three major sources of air pollution as identified by NCAP are industry emissions, vehicular exhaust, and coarse dust from construction, said Dr Ajay Mathur, Director General, TERI. In this regard, intellectual capital and science will play a key role in India's action towards air pollution, he said, citing a recent Delhi source apportionment study that identified how approximately 30% emissions came from secondary particulate matter resulting from chemical reactions in the atmosphere. Dr Mathur reminded the audience that the desire to curb air pollution must be motivated by the shared benefits from cleaner air.
NCAP's imperatives
CK Mishra, Secretary, MoEFCC, echoing Dr Mathur's sentiments, said NCAP must consider the role of NGOs and people by creating new institutional capacities. Air quality is now at the very centre of policy discussion, and citizens must demand clean air, as it influences not just climate sustainability, but life and health itself.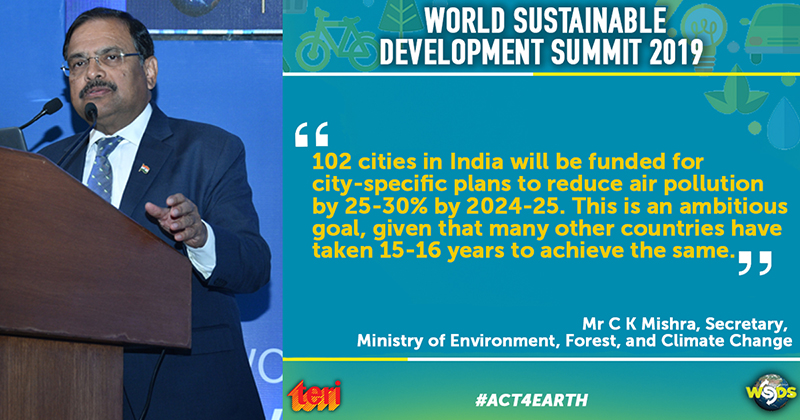 Citing the example of the transport sector, he said that while the government has decided to leapfrog from BS-IV to BS-VI compliant fuels, people must also decide to use more sustainable modes of mobility and judicious use of fuel. Similarly, there must be an understanding of how emissions from daily activities such as construction contribute cumulatively, he said. Speaking of NCAP, he said it targets 25-30 percent air pollution mitigation for 102 cities by 2024-25, and that such a reasonable target is best suited for developing policy parameters.
---