A de-carbonising India blazes on to a renewables revolution

International experts spoke on decarbonisation issues such as increased electrification of the economy and the need for flexibility in face of increasing renewables' integration.
Dr Harsh Vardhan, Honourable Union Environment Minister, said at the inaugural session of World Sustainable Development Summit 2019 on 11th February that India is well on track to achieve its pre-2020 climate goal and will also meet its target of installing 175GW of renewable energy by 2022.
India's transition towards a low carbon energy scenario has achieved a momentum of its own. However, any transition, and particularly one that looks at energy scenarios in a large and rapidly developing country like India, will come with its own challenges. The Energy Transitions Commission India (ETC India), with TERI as its secretariat, seeks to identify and help resolve these challenges so that the pace of transition to renewables can be accelerated.
In a special session titled 'India's Renewable Revolution: Towards a Cleaner, Cheaper Electricity System' on the final day of WSDS 2019 on 13th February, three reports and a book were released by the panelists Lord Adair Turner, Chair, ETC, London, UK; Anand Kumar, Secretary, Ministry of New and Renewable Energy (MNRE), India; Vineet Mittal, Chairman, Avaada Group; David Nelson, Executive Director - Energy Finance, Climate Policy Initiative, apart from Dr Ajay Mathur, Director General, TERI and co-chair, ETC, and the book contributors present.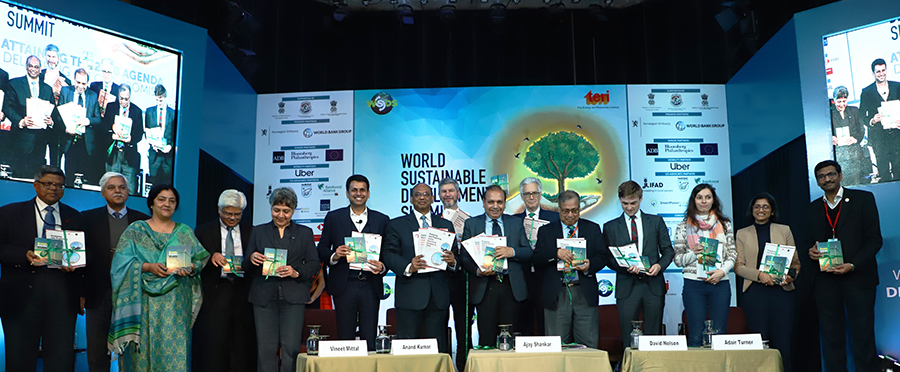 Three technical reports and a book titled Green, Reliable and Viable: Perspectives on India's Shift Towards Low-carbon Energy were launched at the session.
Articulating the Government of India's view on the rapid uptake of renewables, Mr Kumar reaffirmed that energy transition is perhaps one of the biggest transformations of the century, especially for a developing country such as India. He reiterated that for India, the shift to renewables is a matter of both faith and commitment. Mr Kumar pointed out that the availability of land and gaps in transmission infrastructure are two of the main challenges facing the renewables industry. He said that to overcome these, the ministry is working with state governments to identify land and create transmission infrastructure. This should enhance ease of doing business for developers and offer comfort to investors in the renewables sector.
Mr Kumar, while highlighting that India is well on its way to meet, and perhaps even exceed, its NDC commitments to the Paris Agreement in the renewables sector, also pointed out that India's renewables story has largely been driven by private investment. Going forward too, he observed, the Ministry wanted to harness private investment not only in renewable energy capacity expansion, but also in setting up transmission infrastructure.
ETC India's research reports deal with the demand, supply, and flexibility scenarios of India's power sector. This research is intended to identify opportunities and challenges in the three key areas and help guide policy and interventions in the sector. Lord Turner stressed that decarbonising electricity and electrifying the economy is at the core of the transitions story. The sheer size of India, the complexity of existing infrastructure and the rapid growth in demand are some key challenges the sector will face, he said. He was also of the opinion that India can achieve 45% electricity generation from zero carbon sources by 2030, a far more ambitious achievement than the 40% renewable capacity committed in the NDCs.
According to ETC India's research, by 2030, the cost of wind and solar will be between Rs 2.3-Rs 2.6/kWh and Rs 1.9 - Rs 2.3/kWh respectively, while the cost of storage will have fallen by about 70%. With such competitive costs it will not pinch the consumers' pockets.
However, flexibility of the power system is the key determinant on which renewables' growth depends. It is an urgent, complex, and substantial challenge that requires an integrated approach. India's renewables growth will require a better understanding and management of changing demand patterns.
David Nelson of Climate Policy Initiative, ETC India's partner organisation that worked on flexibility aspects, said getting consumer demand to respond and increasing flexibility in existing thermal power plants can together resolve some of the biggest problems facing renewables integration.
ETC India, TERI and CRC Press also launched a book, titled 'Green, Reliable and Viable: Perspectives on India's Shift Towards Low-carbon Energy'. The book contains essays by key sector experts on what it will take to transition Indian economy to one that runs on a higher share of renewables. Authors of the book include industry experts, academicians, and experts from the development sector.
Rachel Kyte, CEO of Sustainable Energy for All (SEforAll) and Special Representative of the UN Secretary-General for SEforAll, sent a video message for the session. Stressing on the 'for all' in sustainable energy, she said, "If a decarbonised economy doesn't work for all, it won't happen. (For this) I urge you to think big and act fast."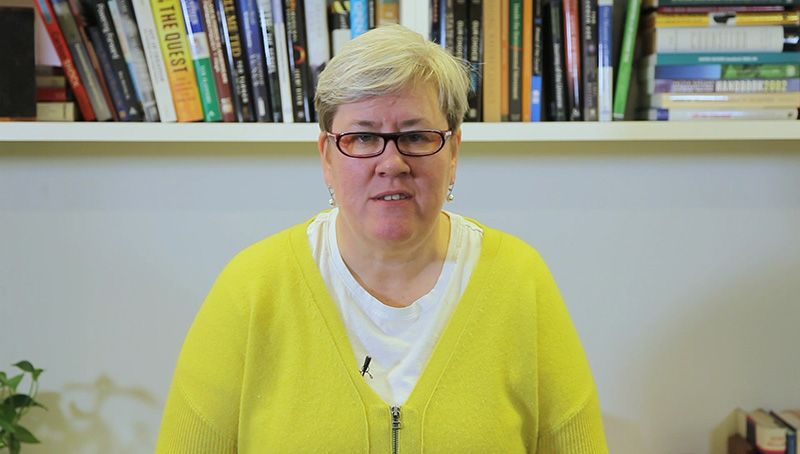 Rachel Kyte, in her video message, stressed on making a decarbonised economy work for all sections of society.
India has certainly made a lot of strides in increasing the share of renewable energy in its mix. Ajay Shankar, Distinguished Fellow, TERI, who moderated the session on India's renewable energy revolution, also pointed out that it is the private sector that has largely worked in this.
The panel felt that there is a need for more data to better devise intervention strategies. The need is particularly acute in understanding how people use power, so that awareness can be built among consumers in order to schedule energy use better. Technology, especially information technology, needs to be harnessed develop smart control systems. Unlocking flexibility, creating business models and markets, and implementing time-of-day based tariffs can help shift demand and supply characteristics, and achieve cost optimisations that can further spur renewable generation and adoption.
---