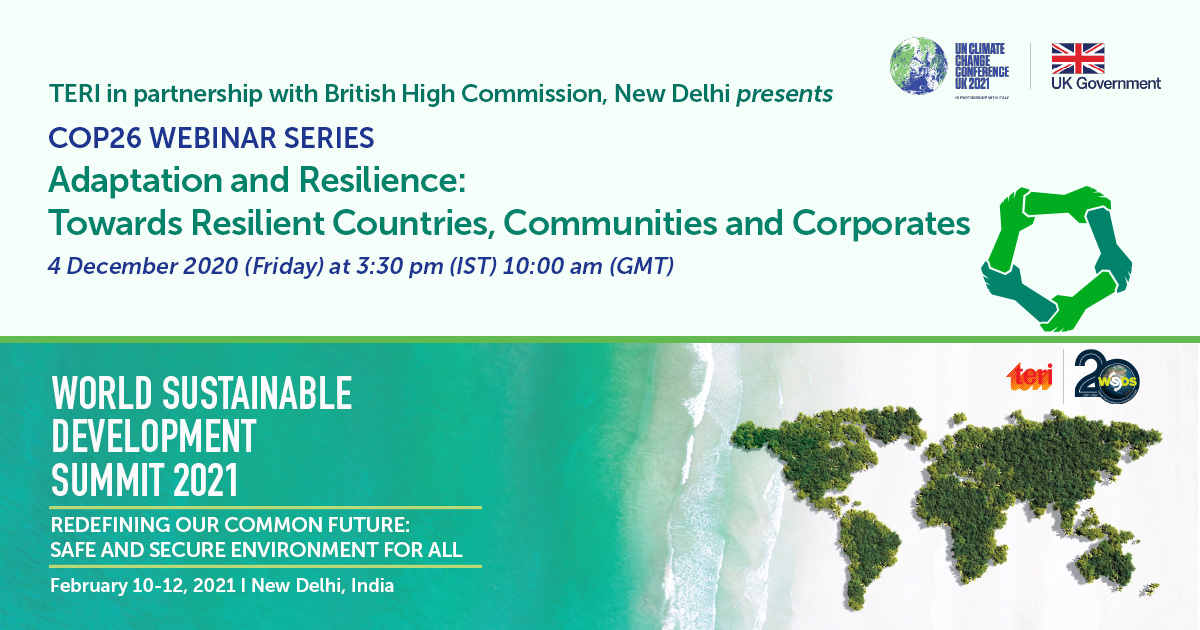 Background Note
The increased frequency of extreme weather events like floods, droughts and cyclones coupled with slow onset climatic changes have led to a shift in discourses around sustainability and converged around ideas of adaptation and resilience. The recent years have not just necessitated, but also led to a concerted effort towards transformative adaptation and resilience pathways that are adept at decision making under uncertainty and interrelated climatic and social challenges arising across scales. There is an increase in focus towards building resilient communities, economies and environments, through an integrated socio-economic and ecological systems approach. In a rapidly growing country like India the sustainability and efficacy of economic growth and the developmental processes is intrinsically linked to integrating climate change adaptation at all levels of economic and development planning. The Climate Risk Index (2020) ranks India as one of the 10 most affected countries due to climate change. India also recorded a high number of fatalities and economic losses owing to extreme weather events and geophysical disasters, thus exacerbating pre-existing vulnerabilities and creating newer ones. Floods in the Indian State of Kerala led to monitory loss of nearly EUR 2.4 billion (US$ 2.8 billion). The 2019 Climate Risk Index spelled a similar narrative with nearly half the number of people affected (=23,900,348) from India and the consequent mortality numbers in the country were second only to Indonesia (=1,388). Amongst the lower-middle income group of countries, India recorded the highest economic losses (=79.5 billion USD) accountable to extreme weather events and geophysical disasters during the period 1998-2017.
While absolute economic losses might be concentrated in high income countries, the human cost of disasters falls overwhelmingly on low and lower-middle income countries: vulnerability to risk, and degrees of suffering, are determined by levels of economic development, rather than simple exposure to natural hazards per se. Strategic support and partnerships with developed countries and communities therein is imperative to build a global resilience to the impacts of climate change. It is therefore emphasised that policies, plans and visions at all scales; global and national, should recognise this need and work towards increased investment in green jobs and resilient infrastructure that enables communities to better plan, adapt and thrive in a changing climate.
This webinar will host a dialogue to accelerate adaptation action and examine climate and investment policies, technological innovations, and attitude changes required to ramp up adaptation action informed by robust climate information and early warning systems. These discussions would feed into the World Sustainable Development Summit (WSDS) 2021 as well as the Adaptation Futures 2020 deliberations. The webinar will explore:
Adaptation and resilience from the context of India's development prerogatives; resource constrains, opportunities and gaps.
Drivers of climate action at the sub-national level; India's actions on risk assessment and developing 'Early Response' systems; best practices and the role of non-government entities
About COP26
The UK will host the 26th UN Climate Change Conference of the Parties (COP26) in Glasgow, in partnership with Italy, next year (1-12 November 2021). Under the Presidency of the UK, COP26 aims to mobilise the ambition set out at Paris (COP 21) to set international action on adaptation and resilience as a priority. Through the much needed strengthening of the narrative on aligning investments into resilience with sustainable development goals, COP26 will aim to turn the UN Climate Action Summit's Call to Action on Adaptation and Resilience pledge into action on the ground. Thus encompassing protection of people from the impacts of climate related extreme weather events; improving quality of life and increasing the availability, efficiency and accessibility of adaptation and resilience finance.
About World Sustainable Development Summit 2021
The World Sustainable Development Summit (WSDS) is the annual flagship event of The Energy and Resources Institute (TERI). Instituted in 2001, the Summit series has marked 20 years in its journey of making 'sustainable development' a globally shared goal, and has established itself as a responsible and an effective platform for mobilizing opinion-makers to identify and advance pioneering actions. Over the years, the Summit series has brought together 49 Heads of State and Government, 13 Nobel Laureates, Ministers from 77 Countries, 1800+Business Leaders, 2200+ Speakers, and over 13,000+Delegates from around the world. The 2021 edition of the WSDS will be hosted from 10 - 12 February 2021 addressing the theme, 'Redefining Our Common Future: Safe and Secure Environment for All'.
About Adaptation Futures:
Adaptation Futures 2020 (AF2020), to be co-hosted by TERI and the World Adaptation Science Program (WASP) in September 2021 is the flagship event of the WASP, one of the four components of the World Climate Programme based on the World Meteorological Organisation Congress XVI Resolution 18. AF2020 is the sixth in the Adaptation Futures international conference series on global adaptation and the first to be held in Asia. The conference will focus on the overall theme of accelerating science- based adaptation action and will serve to shine a spotlight on adaptation challenges and action in the Asian context. It will also emphasize knowledge sharing and co-learning for actionable solutions across the Global North and the South