India's energy transition hinges on effective grid balancing & extensive modelling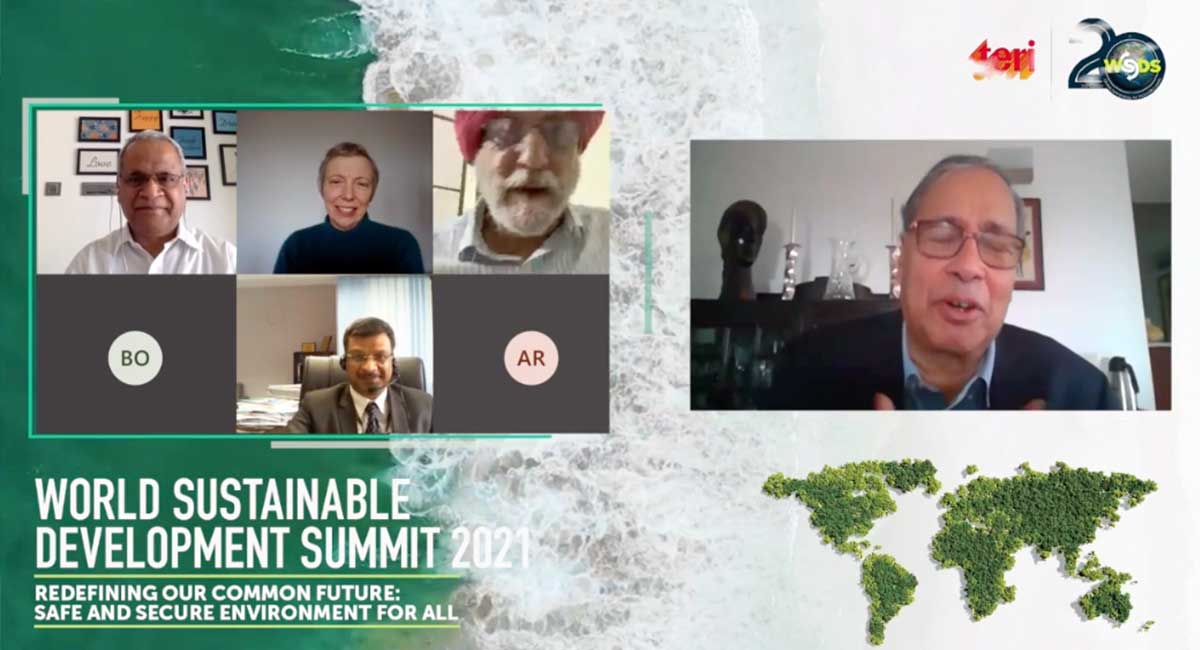 A flexible power system is the pre-requisite for swift de-carbonisation and integration for renewable power. India has had a relatively stable grid, on the back of the consistently large share of thermal generation in its energy mix. However, with the impending larger integration of renewable energy, which is not as stable as, say, thermal, due to its dependence on weather conditions, the need for increased flexibility of the grid is imminent.
In this context, at the 1st thematic track on the topic 'Electricity Transition in India: National as well as State-level Interventions' at the World Sustainable Development Summit 2021, an eminent panel deliberated on India's imminent electricity transition, renewable integration, and the need for grid flexibility in the electricity sector.
Dr Ajay Mathur, Director General, TERI, said this is a decade of electricity transition and today renewable energy is the cheapest form of electricity when the sun is shining, and the wind is blowing. He also spoke about a swift recovery from the reduced energy demand during the lockdown, brought about by COVID-19. According to him, good financial health of the DISCOMs is an absolute necessity for India's transition and he hailed the INR 3 trillion power sector reform indicated in the recently tabled Union Budget. Dr Mathur highlighted the issue of grid flexibility since the variability of renewable power is quite high. Modelling is an imperative and advanced modelling practices and institutions are needed in India, at both national and state level, he added.
Mr Gavin McGillivray, Development Director, UK Foreign, Commonwealth & Development Office (FCDO) in India, said India is already ahead of the curve in its electricity transition with 90 GW of RE capacity. He stressed on the importance of starting early for achieving net zero emission for the electricity sector in India. Real life consequences of climate change are dire, and we need to swiftly decarbonise the electricity sector, he said, adding that India has been at the forefront of developing cost-effective decarbonisation technology for the electricity sector. "We have to manage the energy transition, whilst maintaining reliability and resilience of electricity," he explained.
Mr S.K. Soonee, Adviser, POSOCO, reaffirmed the importance of grid flexibility and spoke about the need for it for the entire value chain. He said there is a need to look at flexibility from a state perspective and called on states to work towards achieving it. Mr Soonee singled out the need for modelling and called for a more granular and dynamic approach that would enable us in finding bottlenecks and limiting constraints in the sector.
Ms Jane Dennett-Thorpe, Ofgem, The UK spoke of the country's experience in power sector reform and said, "Long term targets and policy instruments have been pivotal in the reformation of the electricity sector in the UK. For the country to achieve its net-zero target by 2050, we need to continue to decarbonise the power sector and also expand it to other sectors, like transport, which are being increasingly electrified." She also identified flexibility and effective system operations as the key challenges to energy transition and spoke about the need for full chain flexibility.
Mr. Praveen Gupta, Chief Engineer, Integrated Resource Planning, Central Electricity Authority (CEA), spoke glowingly of India's energy transition and said that the country is currently at 375 GW of installed electricity capacity, out of which around 25% is renewable capacity, at 91 GW. He identified hydro and gas power as the most suitable sources for grid flexibility and added that while India does not have very high gas capacity, the government has already begun work to ramp up its hydro power capabilities. He also added that pump storage can be useful for grid flexibility and envisaged battery storage playing a dominant role in the future, in light of falling prices. He reaffirmed the role of modelling and highlighted the related studies being done by the CEA.
Mr. B Mehta, Director (SLDC), Odisha Power Transmission Corporation Limited, brought a state-level perspective to the discussion and said that renewable power is highly variable and intermittent. He evinced the need for state level allocation for grid balancing and spoke of the need for reliable weather forecasting for a seamless renewable integration.
Electricity transition in India, thus, hinges on the country's ability to manage the intermittency of renewable power and its grid balancing capabilities, along with ramping up its modelling proficiency.