Decarbonisation can help South Asian countries chart sustainable growth pathways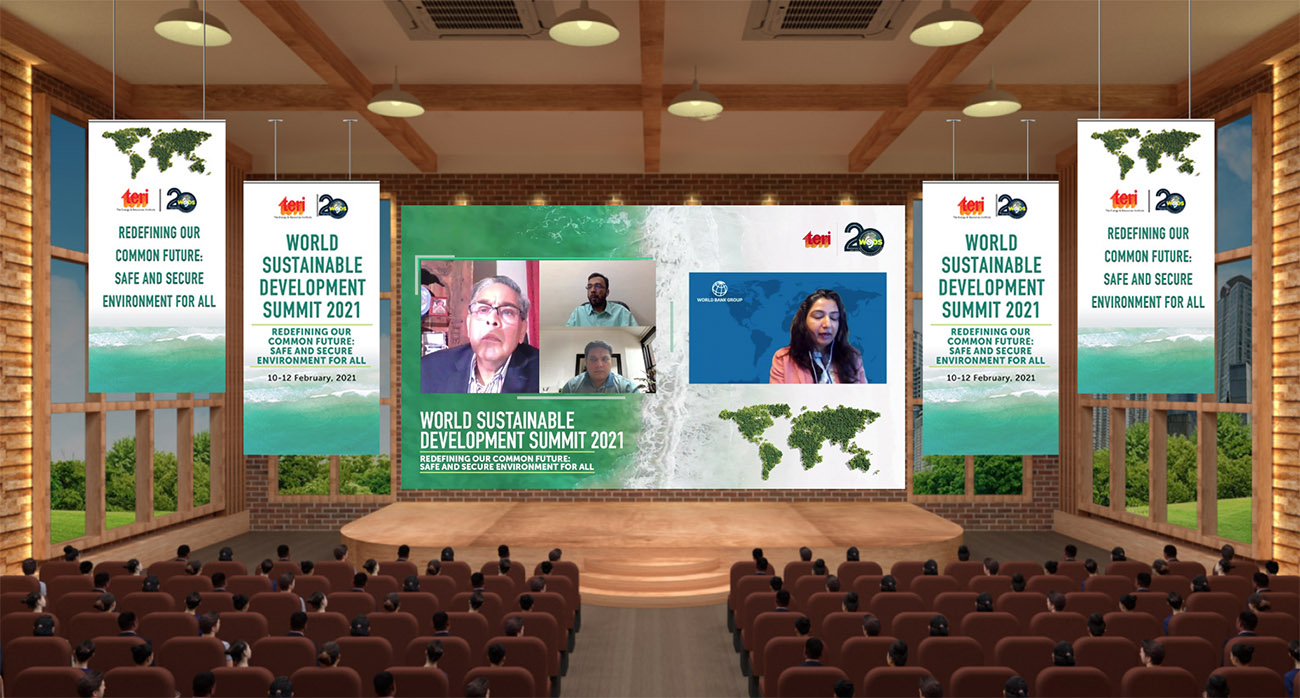 South Asian Region (SAR) is home to some of the largest and fastest economies in the world. At the same time, it is highly vulnerable to climate change. Challenge from these economies comes from the fact that the energy demand is growing at a very fast pace compared to the rest of the world. Its GHG emissions in 2017-19 was responsible for approximately 8.7% of global GHG emissions and is estimated to grow upto approximately 12.2% annually by 2030 under current policy commitments. Therefore, the stakes are high for South Asia to ensure that the Paris commitments are met.
Addressing a thematic session on 'Decarbonising South Asia' at the World Sustainable Development Summit (WSDS) 2021, Mr. R.R. Rashmi, Distinguished Fellow, TERI, said, "Countries in South Asian region should not only contribute to the area of mitigation, but also in adaptation and building resilience. And for the entire range of these actions, decarbonisation is extremely critical. Even today, India has added almost 38% of its total electricity generation capacity from renewables. However, the contribution in terms of actual energy generation is just 4% and almost 70% of the demand is being met by fossil fuels. We need to look at the gap in various sectors closely, whether it is renewable energy itself, EVs, energy usage in agriculture, water sector, industries, etc. South Asian Region needs to build a long-term strategy for decarbonisation which builds resilience and creates adequate space for development of vulnerable population."
Speaking at the session, Mr. Stephane Hallegatte, Lead Economist, World Bank, said, "The aim of the 2030 strategy is to build the foundations for decarbonisation, not just achieving a given level of reduction at the lower cost. When we think of the long-term strategy, we cannot assume the technology will be same as today. In future newer technologies will be available at a cheaper cost. And the uncertainty on these technologies really needs to be at the heart of the long-term strategy." According to him, "To achieve net zero emissions, a backward approach is needed where we start with robust long-term vision for 2050, transform the vision into a pathway in different sectors and create policy priorities for each of them."
"A low-carbon transition of economies in SAR will not only contribute to the global climate goals but also help countries chart sustainable growth pathways, said, Dr. Muthukumara Mani, Lead Economist, World Bank. According to him, it is essential to decouple economic growth from unsustainable pressures, such as those leading to global climate change. It is also important to understand the channels through which a low-carbon transition could affect the economies (jobs, stranded assets) and the possible speed of such a transition, he added.
The World Bank has proposed a Decarbonisation Pathway study that will, phase-wise, take stock and engage with countries; understand economy and sector level modelling; and identify potential scenarios and opportunities for decarbonisation.
TERI presented mitigation and adaptation guiding frameworks for India's long-term strategy to fulfil crucial criteria of domestic development priorities and enhancing resilience of local communities. Elaborating on it, Ms. Mekhala Sastry, Research Associate, TERI, said, "A long-term strategy (LTS) involves developing an indicative blueprint for development which can help align all in a coherent thrust towards desired outcome for a resilient future and sustainable lifestyle in all key sectors. LTS can encourage the alignment and coherence of policies in diverse areas integrating environmental, social, and economic objective. It can also help chart the country's NDCs for subsequent period. LTS can only be effective in planning an allocation of resources that includes financial, technological, and human capabilities. It is a convincing and comprehensive way to articulate India's ongoing developmental needs and the need for support, information and technology sharing at a global scale. Embedding just transition in an LTS would aid in socio-economic progress and build long-term resilience as the essence of just transition lies in improving lives and livelihood."
Panellists in the session shared perspective on the plans by some of the South Asian countries towards decarbonisation. Mr. Ali Tauqeer Sheikh, Founding CEO & National Program Director, LEAD Pakistan, said, "Climate change issue in Pakistan has moved beyond the ministry of climate change; special range of projects are emerging in the sectors. Pakistan government has moved strongly on ecosystem-based approaches."
Mr. Utpal Bhattacharjee, GHG Mitigation expert, UNDP Bangladesh, said, "Bangladesh is regarded as one of the lowest emitters. There has been a huge declaration from our Prime Minister that we will never surpass the average emissions of the developing countries which is 2 tons CO2 per capita."
Mr. Chirag Gajjar, Head Subnational Climate Action, WRI India, said, "Energy transition in India is already underway; the renewable goals adopted by India are driving this transition and will continue to influence the actions in the energy sector." The recent focus on green hydrogen production is an indication that India is looking at decarbonisation of its energy sector, he indicated.