Scientific data and collective effort make air pollution a solvable problem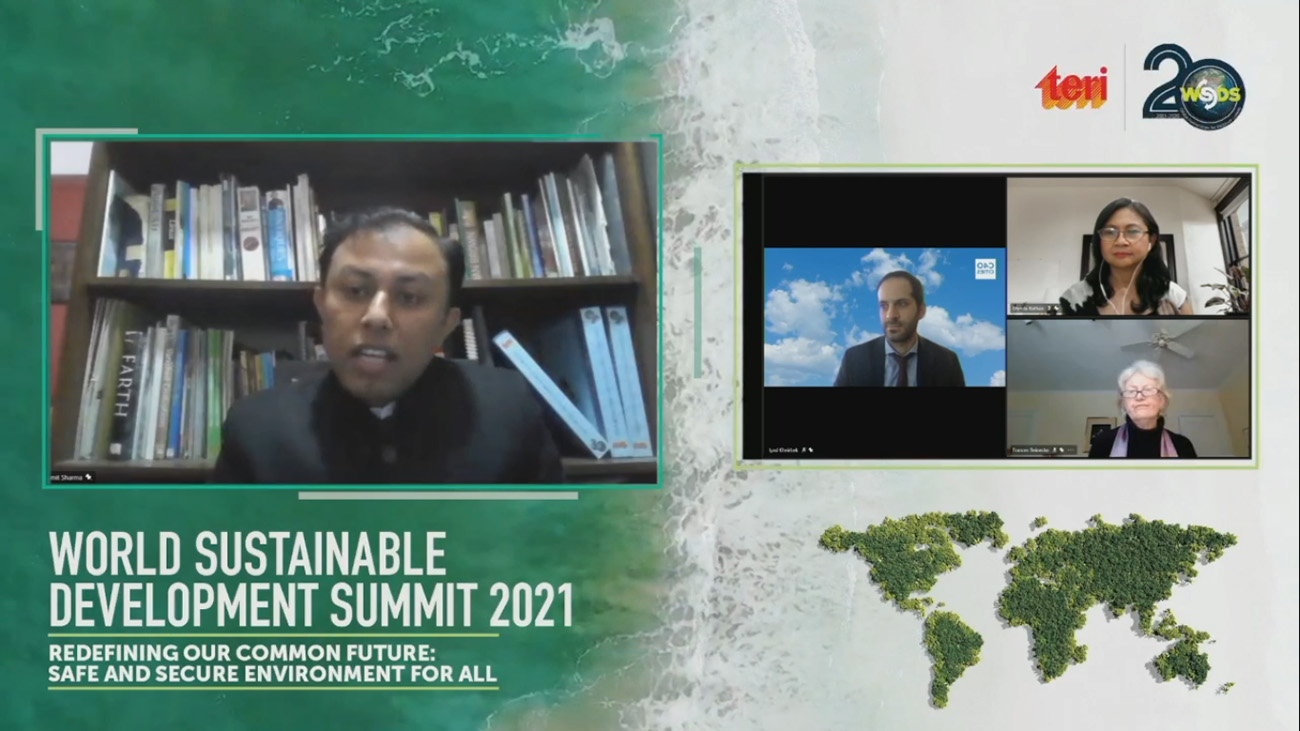 Air pollution is a key concern in a developing economy like India. Speakers at the thematic event on 'Cleaning air in Indian cities' held at the World Sustainable Development Summit (WSDS) 2021 deliberated upon the various challenges faced in combating air pollution. They also discussed steps needed for improving air quality management and what Indian cities can learn from other countries in tackling air pollution.
Many cities are developing preliminary air quality management plans based on basic information on air quality and sources, but not on the basis of detailed scientific assessments pin-pointing the source contributions. In his welcome remarks, Dr. Sumit Sharma, Director – Earth Science and Climate Change, TERI, said, "Air pollution is not a small scale or city level problem, the issue is regional. Most importantly, it is a solvable problem. However, contribution of regional scale pollution and secondary particulates are generally not accounted in the city level air quality management plans, which are significant contributors. It has been observed that other than emission sources within the city, regional pollution sources also contribute significantly towards the deteriorating air quality of cities. It is therefore imperative for entities to focus energies across sectors to mitigate sources of pollution."
In her opening remarks, Ms. Priya Shankar, India Director, Environment and Climate Program, Bloomberg Philanthropies, said, "With 90% of the world's population breathing unhealthy air, the complexity of air pollution is concerning. It is not just an environmental or public health issue, but also an economic one that costs the global economy $5.7 trillion. Numerous factors including transport, industry and home-based fuel are adding to the problem abundantly. Considering the COVID-19 pandemic, tackling air pollution has taken on greater urgency. Forming comprehensive global green strategies and increased public awareness are some of the key steps to solve this issue."
On the progress made by several Indian cities for controlling air pollution, Dr. Prashant Gargava, Member Secretary, Central Pollution Control Board (CPCB), said, "Significant collaborative efforts made by government authorities, policy makers and all key stakeholders have drawn the much-needed attention to the problem of air pollution in our cities. The scientific community has been immensely helpful in providing data, which has proved instrumental in developing and implementing solutions."
When it comes to finding solutions to combating air pollutants, international experience can be valuable. Ms. Frances Beinecke, President Emerita, Natural Resources Defense Council, said, "Air pollution is a pressing public health issue in the world, particularly in Asia. As science and data to support this issue become clearer, it is imperative to address it urgently. It is important to remember that the health impacts are closely intertwined with social and economic impact as well. To ensure and maintain sustainable air quality it is not enough to just set standards, but critical for governments, world-wide, to responsibly meet them too."
A lawyer with 20 years of experience in policy and programme development for clean air, sustainable transport, industrial emission control and climate change mitigation, Ms. Glynda Bathan, Deputy Executive Director, Clean Air Asia, Philippines, said, "Besides transport, several other sources of air pollution in Asian cities include fuel burning in households (indoor air pollution), industries, and sources outside of cities and state boundaries. Data-driven solutions are ideal to develop a guidance framework for enabling clean air. Followed by the pandemic in 2020, climate change and air pollution are the next curves that need to flatten with the same emergency. This calls for a stronger policy making and greater political will. The approach should be science based, multi-sectoral and involve all stakeholders."
Sharing his perspective on the issue, Mr. Iyad Kheirbek, Programme Director Air Quality at C40 Cities, said, "Improving air quality can also help to achieve climate targets set by several nations. Collaboration among countries is important to combat air pollution. Cooperation across government agencies and jurisdictions, along with effective use of data on sources, exposure and health impact are some of the key components to solve this problem. Regional and collective effort cannot be compromised, for solutions cannot be achieved in isolation."
With several signs of improvement witnessed around the world, there is evidence that strategies to improve air quality can work only if initiated with data and collective effort.