It's not just a Crisis of the Climate it's a Crisis of the Youth's Future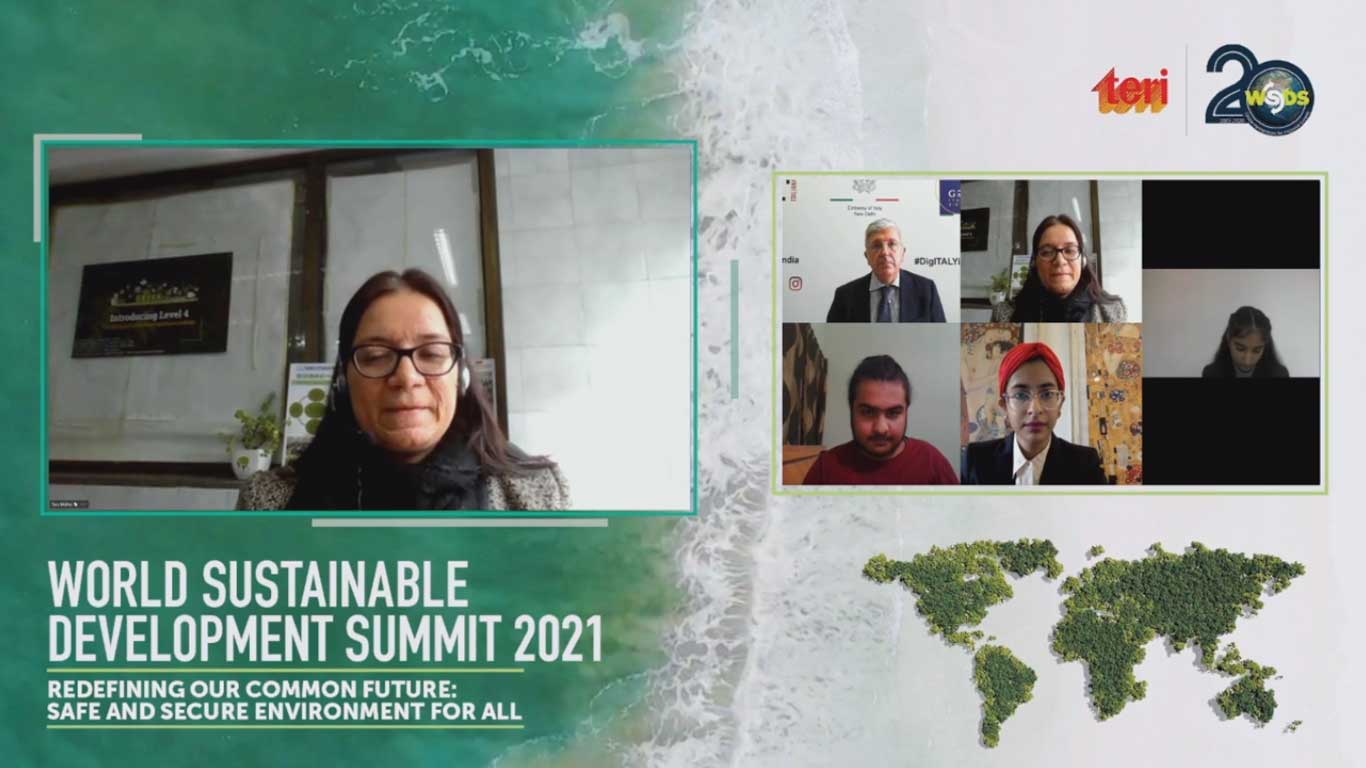 "Climate change is not an academic concept anymore. It is here and now, and we are living through it. Draft a new social contract to organise our society, our economies & particularly our politics to bring the people & planet together," said Dr Anurabha Ghosh, CEO, Council on Energy, Environment and Water (CEEW), during the 'Youth Unite for a Safe and Secure Environment for All' thematic at the recently concluded World Sustainable Development Summit 2021. This passionate appeal addressing the youth across national and international boundaries for an immediate and coordinated climate action flagged off the 20th edition of the World Sustainable Development Summit. As the world reels under the growing threat of climate change and biodiversity loss, the first session of the Summit dedicated to the youth, highlighted their immense role in the fight against climate change.
Across the world youth has been spearheading climate action movements, in the hope of influencing governments and societies to rethink their developmental models. Supporting the debate of climate change not just through hard statistics and data, the youth have brought with them something that until a few years back seemed distant and undervalued- the human-nature connect. Their voices have highlighted how the present model of growth has turned the planet into nothing more than a transactional commodity. "The future of the youth is at stake and we can't delay taking climate actions anymore. We must reach the goal of the Paris Agreement by following the youth's spirit," said Ms Tosca Barucco, Special Envoy for COP 26 of the Italian Ministry of Foreign Affairs during the thematic session. Since the Paris Agreement came into effect, youth across the world have fought a dual battle of working to suspend disbelief and scepticism regarding climate change while pressuring corporates and countries to meet the goals set under the Paris Agreement.
While countries have been making claims of going carbon neutral and even fulfilling some of their Nationally Determined Contributions, the path to restricting the warming of the planet below or equal to 1.5 °C by 2030 is highly improbable. Youth climate campaigns like Fridays4Future and several others have been working to press on the urgency for action, as their own future is at stake.
The Climate Crisis is an Economic Crisis and it's the Youth that'll face the brunt of both
Statistics don't lie. It is evident that the current model of investment and growth is unsustainable. This is a fact which has been reiterated time and again. For any meaningful and substantial climate action to take place it is necessary that we reinvent our ways of doing business.
"It is important to look at our lifestyle & culture to address climate change. Youth is crucial in this as it is more innovative & aware of sustainable resource use," said HE Mr Vincenzo de Luca, Ambassador of Italy to India in his special address during the thematic. In the Covid hit economies where jobs have increasingly become scarce, and where the major market share represents sectors which have significantly high carbon footprints, green growth seems distant.
But all is not lost. The pandemic as hard hitting as it may be, has also opened a window of opportunity where nations and corporations across the world can restructure their business and growth models to incentivise green growth and green job creation. It was in this spirit that Dr Ajay Mathur, DG, TERI, (DG elect, ISA) said, "We need to change the way in which investment decisions are made by both governments & corporates. Huge emphasis needs to be paid on green job creation & skill development for a greener future."
This generation not only has the will, but also the urgency to push for action. They have a common cause and the passion to work for it. "We as young people can take action on climate and protect our biodiversity. We have the ability, agency and capacity to drive change. If the youth can work together and unite for a long-term; our future will be better than what was given to us," were the words with which Ms Jasmine Kaur Narang, a student at Panjab University, Chandigarh concluded her remarks during the thematic session.
The fight is long and arduous and the struggles are many. But if there's anyone who can bring this revolution, any section of the population that can come together to take actions in ways that aren't just vertical but cut across diverse sections of society, it is the youth.