Where's Sustainability if half of the voices aren't heard: The Gender Equity Imperative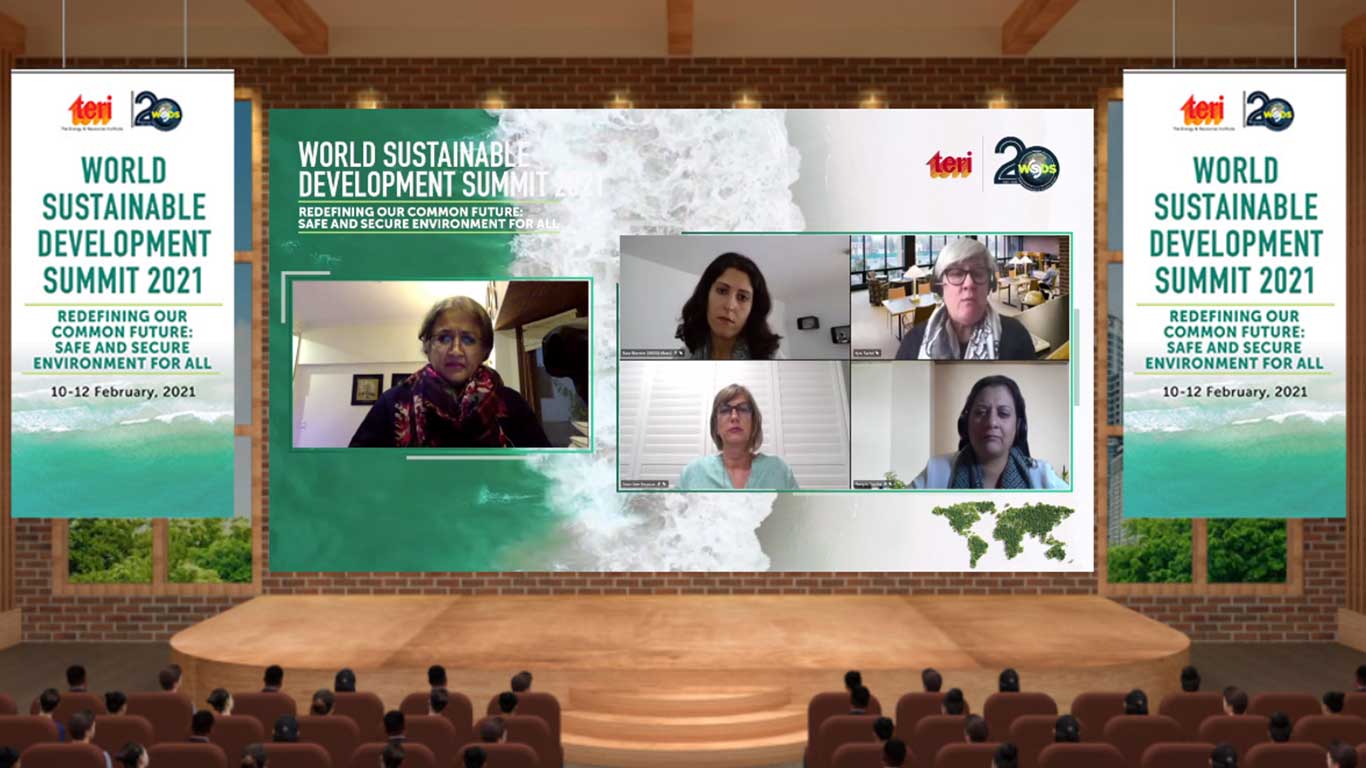 Environmental protection and sustainable development require investments as there is an inherent cost associated to compensate the damage that has been caused to the environment. Economies grow in very basic terms with growth in workforce and the growth in the productivity of that work force. But what happens to markets and economies when half of the work force is sidelined and discriminated against. How do you think will production, capital generation, and more importantly unique skills be impacted by this?
In the context of sustainable development, the lack of social inclusion reflects directly on the debate around costs for environmental protection. But more importantly, it opens up the huge gender biases that exists in the realm of businesses posing a hurdle to gender equity, equality and also relegates the voices of the underrepresented to the margins.
Highlighting this inequality during the thematic 'Women On The Rise: Prioritizing Gender Equity As a Business Imperative' and the GDP boost that inclusivity will bring, Ms Gauri Jauhar, Executive Director, IHS Markit cited the findings of the 2015 McKinsey report titled, 'The Power of Parity: How Advancing Women's Equality Can Add $12 Trillion to Global Growth' that stated, "In a 'full potential' scenario in which women play an identical role in labor markets to that of men, as much as $28 trillion, or 26 percent, could be added to global annual GDP by 2025."
These findings are extremely significant not only because they reveal the huge amount of untapped potential of the labour force which has been neglected for long but also because it brings to the fore the knowledge and skills that the market hasn't even considered. Thus, if sustainable growth and a green environment is the goal, it cannot be divorced from issues of gender equity, if for nothing else then at least for the capital that it brings in to drive action. This was echoed in Ms Christine Lins, Executive Director, GWNET remarks where she said, "Women empowerment is not just a women's issue but also a men's issue. It's not just women's right to have equal work opportunities but it's also a proven fact that this makes great economic & environmental sense."
There is no denying that the current scenario is far from ideal and it has gotten worse due to the pandemic. According to the 'Women in the Workplace' (2020) report by McKinsey & Company and LeanIn.Org, "One in four women are considering downshifting their careers or leaving the workforce due to Covid-19." The fact that the pandemic has disproportionately affected women shows the lack of sensitivity and inclusiveness in policies that govern the present-day business model.
In the present state of affairs, policies are not just majorly made by men but also are quite restricted and narrow. Unless there exists a holistic view especially considering the multiples roles that women are expected to fit into in the society, their prospects of career advancements would be quite difficult.
Money matters and quite often it sways the seat of power. While this might not seem as a good thing at first, but if leveraged correctly, it has the force to drive change. Investors are one such group who can greatly influence the way market works, which in turn can bring change in policy making. By lending their support to organisations that are flexible and accommodate family and gender inclusive policies, investors can influence the market to push for diversity and gender equity.
But that's not all. In the developing world especially, where women are much more marginalised, there is a huge need to develop and promote skill development programmes along with making education more accessible. "Women need to proactively market the work they do and have the courage to take risk and venture into new areas," opined Dr Sujatha Narayan, Regional Vice President, Wabtec Corporation India speaking during the session.
The fight for a sustainable future, a healthier and greener planet is not a single battle. It is a war that needs to be fought at multiple fronts, by implementing strategies that look at both the long and short-term effects. Gender equity, diversity and inclusivity are one of the most important aspects that need to be considered as we fight against climate change. But like in any long haul there are bound to be times when one feels weak. It is thus that, Ms Rana Ghoneim, Chief, Energy Systems and Infrastructure Division, UNIDO said, "Women need to reach out and find an ecosystem of support, like the women working in that sector, but even male role models willing to step in and work at home to help women progress in their careers."
There are significant barriers for women and marginalised communities in general both in terms of gender and ethnicity, but this is what makes the need for equity all the more important. "Yes, it is about equity, and rights but it is also about economic performance and building sustainable economies. If the voice of women is not heard and their perspective not seen bad decisions can be made quite easily," said Ms Rachel Kyte, Dean, The Fletcher School, Tufts University reiterating the fact that sustainable development cannot be divorced of the voices of the women and the marginalised.
While it is unfortunate that we still have to talk of gender, diversity and inclusivity today, the knowledge that the generation of women coming up today does not accept inequality in any shape or form is a breath of fresh air. With the passion to strive for all those positions of leadership that they have historically been neglected from, the prospect of achieving a sustainable, green and just world seems more probable.