Consumers are aware and ready for change, now is the time for the right policies towards sustainable cooling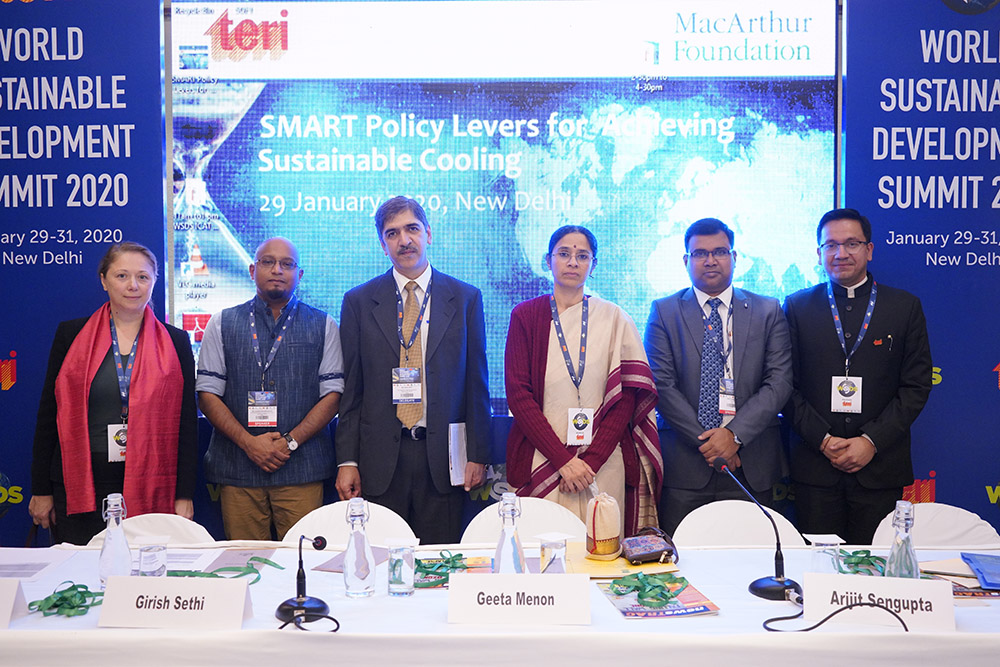 Experts from a multitude of sectors engaged in an enlightening dialogue on the future of sustainable cooling at WSDS 2020
---
The aggregated nationwide cooling demand is projected to grow around 8 times by 2037-38 from the 2017-18 baseline. This makes sustainable cooling imperative. India is the first nation in the world to create an integrated action plan for cooling – the exhaustive India Cooling Action Plan (ICAP) -- and seeks to make cooling greener and more energy efficient. One of the key focus of ICAP is the further development and use of a robust mix of cooling technology, including the use of energy-efficient appliances. Energy efficiency has been making inroads into an array of sectors in India and has had significant impact, both in terms of emission reduction and avoidance of power demand. In fact, according to a Lawrence Berkeley National Laboratory (LBNL) estimate, if India's ACs improve in average efficiency by 30% from 2015 levels, it can reduce the annual CO2 emissions by approximately 180 million metric tons per year – this is equivalent to about 10% of India's total CO2 emissions reductions goals stipulated in the Paris Agreement Nationally Determined Contribution (NDC).
The primary stakeholder who can help India achieve its ambitious cooling goals is the consumer. An increased adoption of eco-friendly and energy efficient cooling alternatives by the consumers will cascade into environmental benefits at the national level. However, is important to understand the psyche and motivation of this key stakeholder, in a bid to fine tune policymaking in the sector. With this backdrop, a pivotal session was organised by TERI during its flagship World Sustainable Development Summit (WSDS – 2020), titled "SMART policy levers for achieving sustainable cooling".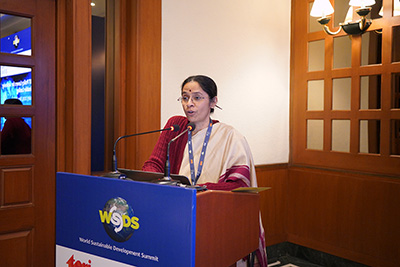 Geeta Menon. Joint Secretary, MoEFCC spoke about the vital role of energy efficiency in making the cooling sector more sustainable
The session delved into a national level perception survey that is being undertaken by TERI to map policymakers, industry, consumers, servicing technicians and industrial training institutes, with the aim to identify the policy, awareness and capacity building solutions to facilitate the implementation of ICAP. The findings of the stakeholder perception study were presented by Mr Vasudevan Rangarajan, Corporate Lead- Delhi, Edelman India, in a bid to better understand the initial perception of various stakeholder groups. The survey revealed that high income consumers consider energy efficiency and after sales service as the leading attributes while making a purchase decision for ACs. They also prefer to look at online reviews whilst purchasing, which marks a perceptible shift in consumer behavior. Consumers also view energy efficiency as the biggest innovation in the cooling sector and while some amount of knowledge exists about ozone depletion potential of certain coolants, a more nuanced knowledge can be provided to the consumers. The customers also preferred company technicians for servicing their ACs and trust them implicitly to do their job well.
The survey findings also highlighted that informal training still drove significant part of servicing workforce and that the technicians are aware that better training opens up better economic opportunity. Mr. Rangarajan highlighted that according to the survey, policymakers seek better awareness and cooperation across the value chain and believe that there is a gap between the policies being framed and awareness among consumers. He charted the future roadmap by emphasising on the need for collaboration across all the stakeholders and suggested market mechanisms such as economies of scale and market aggregation to bring down the cost of new technologies. This will make adoption of new technology seamless. Better training for the technicians, along with better communication across the value chain were also highlighted as the imperatives.
Dr. Amit Love, Ozone Cell (MoEF&CC), remarked that behaviour studies such as the one undertaken by TERI can be the guiding forces and spoke about the need to find the barriers to communication that have to be overcome from a policymaking point of view. Arijit Sengupta, Director, Bureau of Energy Efficiency, too, brought into spotlight the role of energy efficiency in the cooling sector and spoke about the immense impact of the star labelling programme of BEE. He remarked, "As India grows economically, it will still depend on fossil fuels for the next few years, but great strides have been made in shifting towards energy efficiency and renewable power."
Dana Purcarescu, Deputy Head of Mission, Embassy of France, provided a global perspective and hailed India as a first mover in sustainable cooling. She also said the world can glean significant learnings from the India blueprint.
Ulka Kelkar, Director, Climate at WRI India, said we need to broaden our horizons to look beyond just energy efficiency and look at reducing the demand of cooling as well. She spoke about behavioral biases that exist, that need to be considered while formulating policy. Thus, it is pivotal to study perception and behavior of consumers and other stake holders. It can help shape impactful policy decisions in the cooling sector. As Mr. Rangarajan rightly surmised it: "Change is imminent, just the method and pace have to be decided."
---