Day: 24th February, 2023 | Wednesday
5:00 pm – 6:00 pm | (IST) Click here for time in your location
Venue: Stein Auditorium, India Habitat Centre, Lodhi Road, New Delhi
Introduction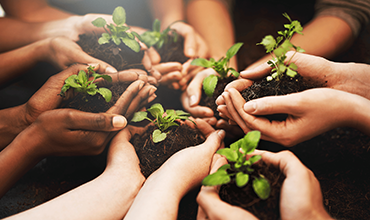 It has been more than 50 years since the United Nations Conference on the Human Environment, popularly known as the 1972 Stockholm Conference. Fifty years on, it is increasingly being recognized that our political, environmental, and commercial activities are still carried out in silos and lack a systemic approach. The mechanisms and tools within policymaking are often carried out in departmental silos, thus missing the opportunity to collectively act towards sustainable development.
Need for Mainstreaming Sustainable Development
Mainstreaming climate action and sustainable development into policies, plans and budgets is an important process because many decisions and activities that have implications for the environment are dealt with non-environmental agencies. Thus, each line agency/ body must be actively part of the process, having internalized the principles or objectives of sustainable development into their policy decisions. The impact of mainstreaming has a potential to increase awareness, change perceptions/attitudes, and improve the way inter-sectoral decisions are made. Mainstreaming environmental issues into decision making calls for two types of organizational integration, vertical and horizontal integration. A vertical integration requires a political commitment with mandates and frameworks coming from the international/ national level, and implementation and monitoring being carried out at all levels including sub-national. Vertical integration becomes crucial since the sub-national units can offer the comparable advantage of being more closely attuned to, and having better knowledge of the environmental needs of local communities and local stakeholders. On the other hand, horizontal integration is the environmental sustainability mandate being considered across different departments or sectors at a particular governance level.
Challenges to Mainstreaming Sustainable Development
The process of mainstreaming sustainable development comes with its own set of challenges including lack of motivation and uptake from the relevant stakeholders which results in weak responsibilities and hence, vague accountability mechanisms. There is also a lack of political will to mainstream sustainable development in policies and practices, and challenges also come in the form of 'broader governance constraints', such as maintaining ministerial territories which hinder cooperation and coordination across sectors and ministries. Often, environmental ministries/departments have very weak influence across sectors. Therefore, it becomes imperative to create awareness and build capacity to tackle these challenges so that stakeholders can come together to take collective action for a sustainable future.
Key Questions (speakers are requested to address all/ at least two questions)
[1] The five pillars of the Green Development Pact, under India's G20 Presidency, are envisaged to include: Lifestyle of Environment (LiFE), Circular Economy, Climate Finance, Accelerating Progress on SDGs, and Energy Transitions & Energy Security. What are your proposals for G20 Presidency and for a Green Development Pact?

[2] Keeping in mind the Global Stocktake and the global goal on adaptation, what are your key expectations from COP28?

[3] On the umbrella theme of the Summit, how can sustainable development mainstreamed to be integrated in policy areas?

[4] Can you highlight the role of multi-stakeholder platforms such as the World Sustainable Development Summit?
Format
The Valedictory Session of the World Sustainable Development Summit 2023 will summarize the key messages emanating from various sessions that were part of the Summit deliberations. The session will see the release of the Act4Earth Manifesto which will include messages for the G20 Presidency as well as COP28. The session will also be a curtain-raiser for the 23rd Edition of WSDS wherein the dates and the theme of the next edition of the Summit will be announced.